The Me262 by Robert Taylor
Three legendary prints by Aviation arts finest.
11 October 2021
The legendary Me262 was sleek, beautifully proportioned and deadly, and with a top speed of around 540mph was way faster than anything in the Allied arsenal. It could have changed the course of the war.
Here's a small selection of prints by Robert Taylor that all feature the Me262 and are signed for posterity by veterans who flew this mighty aircraft during WWII...
Artist Proof Edition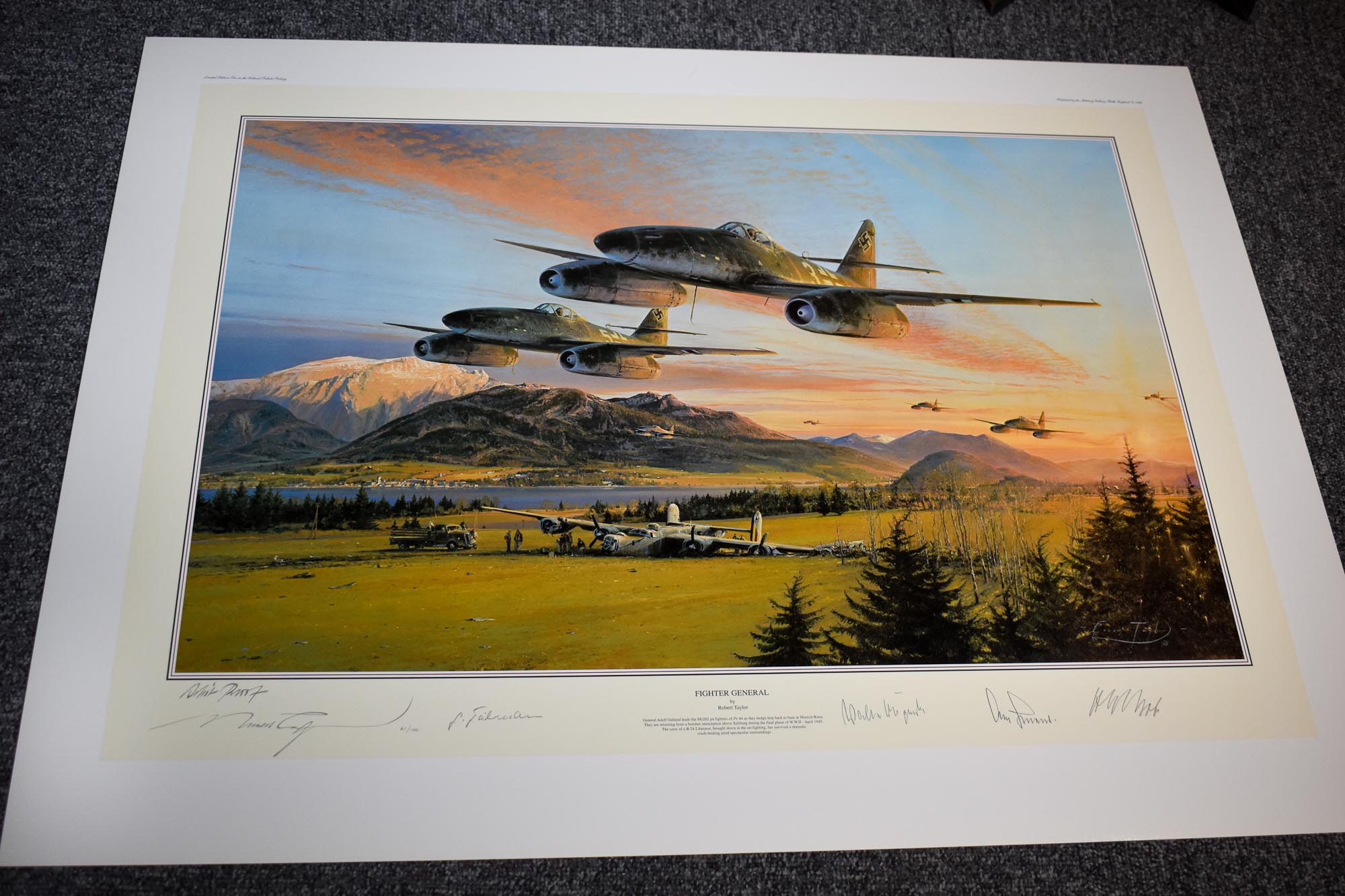 Me262s led by Adolf Galland, are returning towards Munich-Riem at full throttle, keeping low to avoid USAAF escort fighters after successfully intercepting and bringing down a B-24.
Published in 1997, this moving print was autographed at the time by Galland himself and three highly-regarded pilots who flew alongside him in the famous JV-44 unit:
Generalleutnant ADOLF GALLAND KC w/ Oak Leaves, Swords & Diamonds
Major HANS-EKKEHARD BOB KC
Generalleutnant WALTER KRUPINSKI KC w/ Oak Leaves
Leutnant GOTTFRIED FAHRMANN
Now incredibly sought after on the Secondary Market, we're pleased to have ONE copy available! Find out more HERE!
--------------------------------------
Limited Edition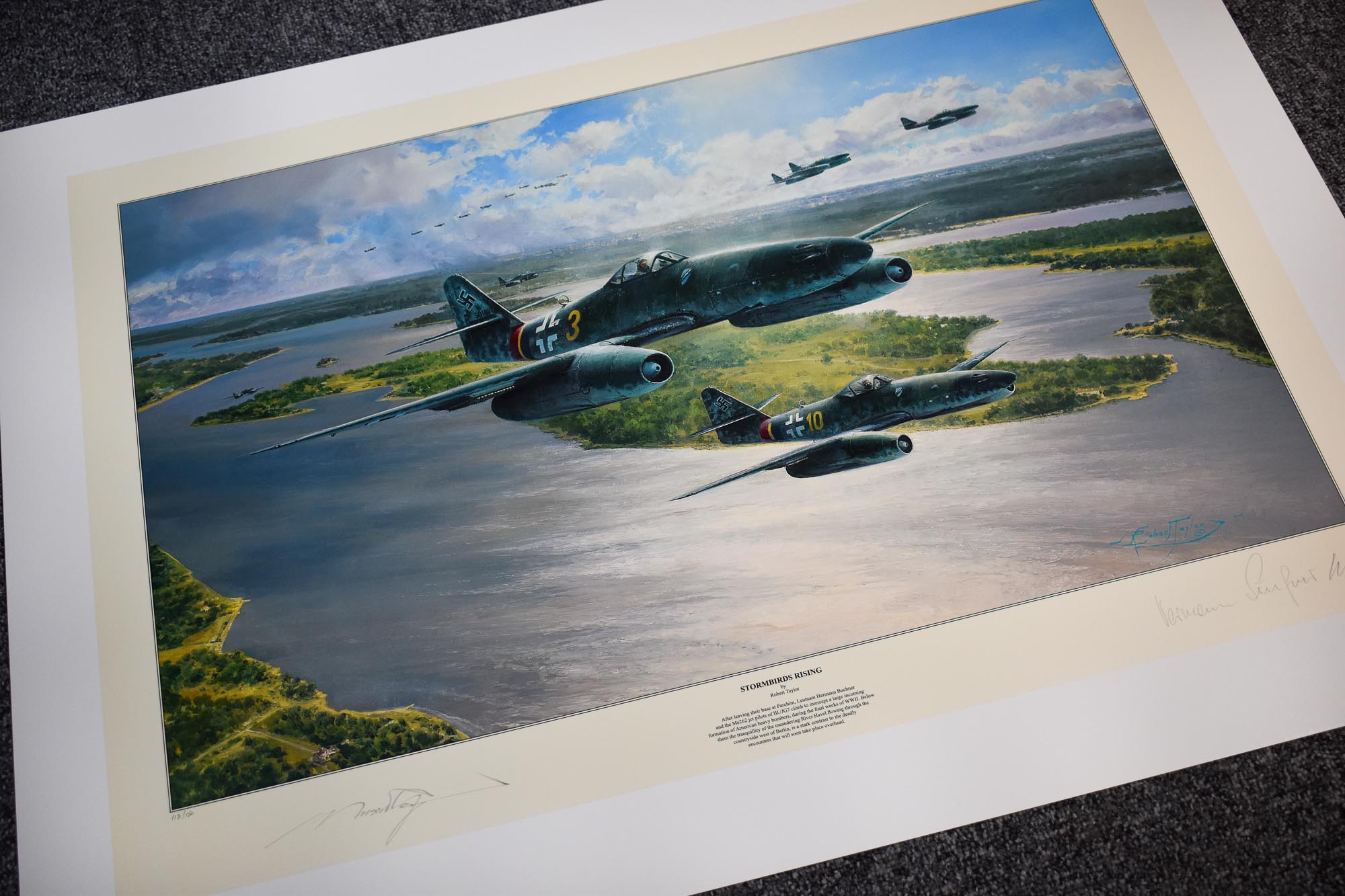 Leutnant Hermann Buchner, one of the foremost jet Aces of the war, leads the Me262s of III./JG7 climb to intercept a large formation of American bombers, during the final weeks of WWII. Below them the tranquillity of the meandering River Havel is a stark contrast to the deadly encounters that will soon take place overhead.
This powerful print includes the original autographs of some of the most highly-decorated pilots to fly the Luftwaffe's revolutionary jet, including Hermann Buchner himself:
Oberst HERMANN BUCHNER KC (pictured)
Oberleutnant WOLFGANG WOLLENWEBER IC
Leutnant ALFRED AMBS
Leutnant NORBERT HANNIG IC
Leutnant JORG CZYPIONKA IC
Major ERICH RUDORFFER KC w/ Oak Leaves & Swords
Oberleutnant WALTER SCHUCK KC w/ Oak Leaves
Find out more HERE!
--------------------------------------
Aces Edition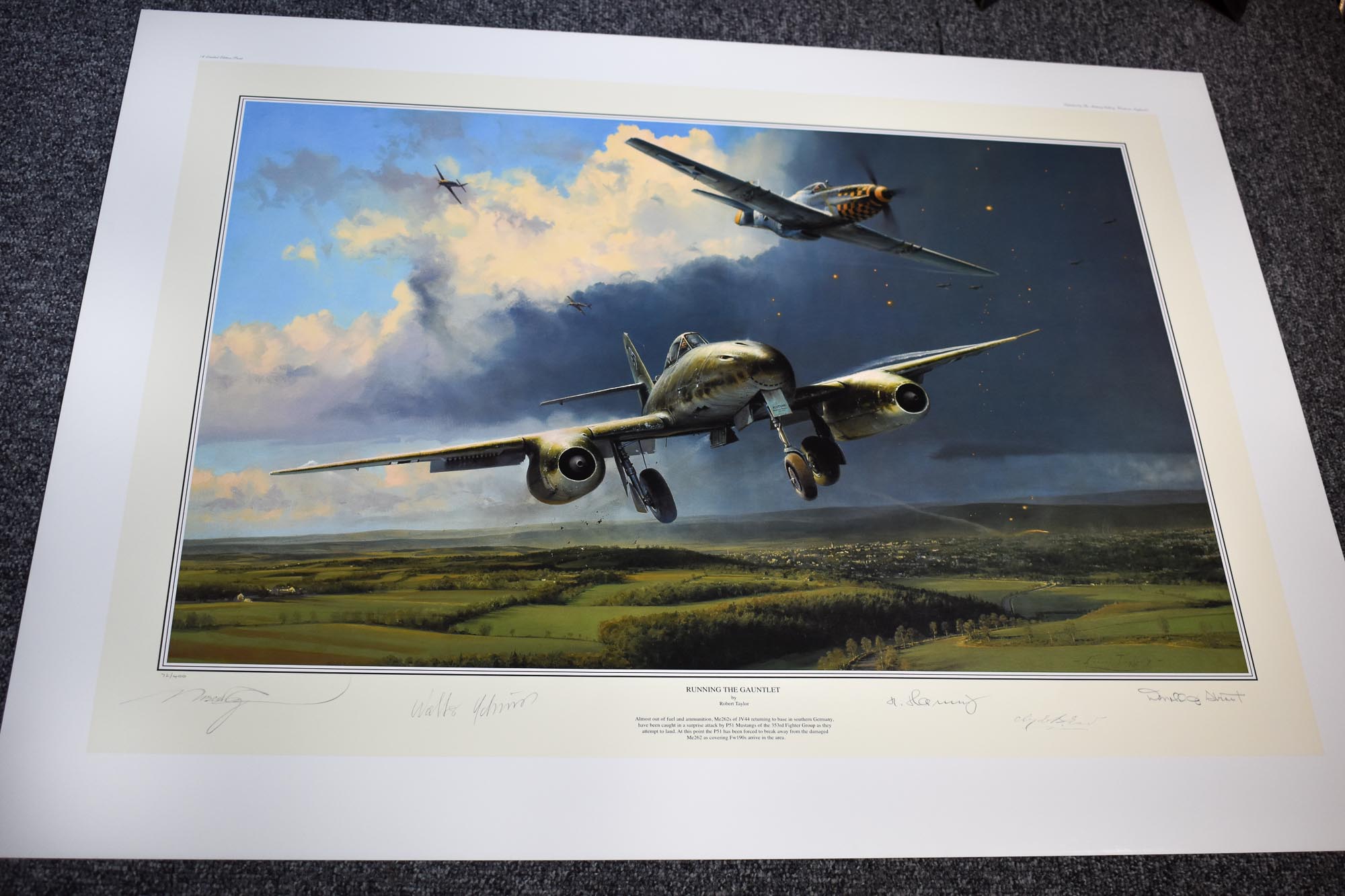 Almost out of fuel and ammunition, Me262s of JV44 have been caught in a surprise attack by P-51 Mustangs of the 353rd Fighter Group as they attempt to land.
Robert's masterful piece is personally signed by an astonishing line-up of Mustang and Me262 Fighter Aces and is already considered one of the landmark pieces to feature the jet in action!
This Aces Edition print has been individually signed by FOUR such names representing both sides of the bitter conflict:
Major General DONALD STRAIT
Lieutenant Colonel CLYDE EAST
Leutnant NORBERT HANNIG IC
Oberleutnant WALTER SCHUCK KC w/ Oak Leaves (pictured)
Find out more HERE!
--------------------------------------
Framed options are also IN STOCK and immediately available for collection or worldwide shipping!