Operation Tidal Wave
Memorable pieces commemorating Operation Tidal Wave
1 August 2020
Original Painting by Anthony Saunders

Facing the full effects and heavy smoke of the raging oil fires below, B-24 'Fertile Myrtle' and Liberators of the 98th Bomb Group pass over the Astra Romana refinery at Ploesti, 1 August 1943.
Allied planners knew that if these oilfields could be destroyed it would deal a savage blow to Hitler's armies so it came as no surprise to the brave bombers of the Ninth Air Force that both the German and Romanian defences were on full alert. The risks were enormous, the odds of success minimal, but should they succeed the rewards were great. "We expect our losses to be 50%" said the Commanding Officer of the Ninth Air Force, "but even though we should lose everything we've sent, but hit the target, it will be well worth it."
Until recently this outstanding painting has been part of a private collection but we're delighted to now have it available for sale. This piece is a highly valued original, that we won't have for long - CLICK HERE for more info.
Rare Artist Proof Print by Robert Taylor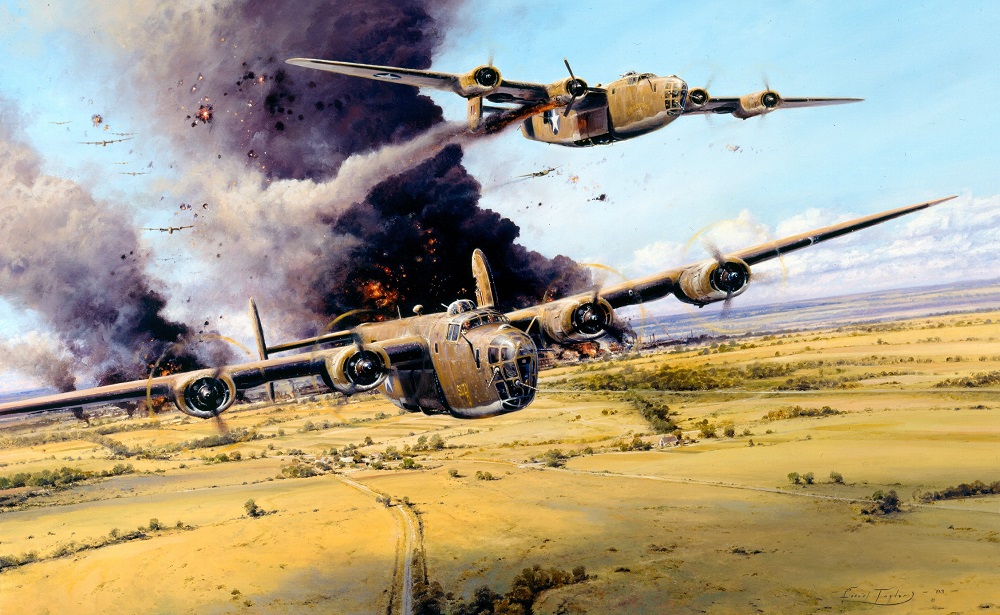 Suzy Q and Liberators from the 44th Bomb Group emerge from the maelstrom having delivered their devastating attack.
Originally published in 1993 and now highly sought-after, Robert's gripping spectacle brings this historic raid to life with vivid, awesome reality.
This award winning print sold out immediately on release so we're delighted to offer an Artist Proof which has been personally signed by FIVE distinguished B-24 pilots, each representing one of the five USAAF Bomb Groups who flew the mighty Ploesti mission:
Maj ROBERT STERNFELS
Maj Gen RAMSAY POTTS
Lt Gen KEITH COMPTON
Col WILLIAM CAMERON
Maj Gen PHILLIP ARDREY
CLICK HERE to find out more.
Limited Edition Print by Anthony Saunders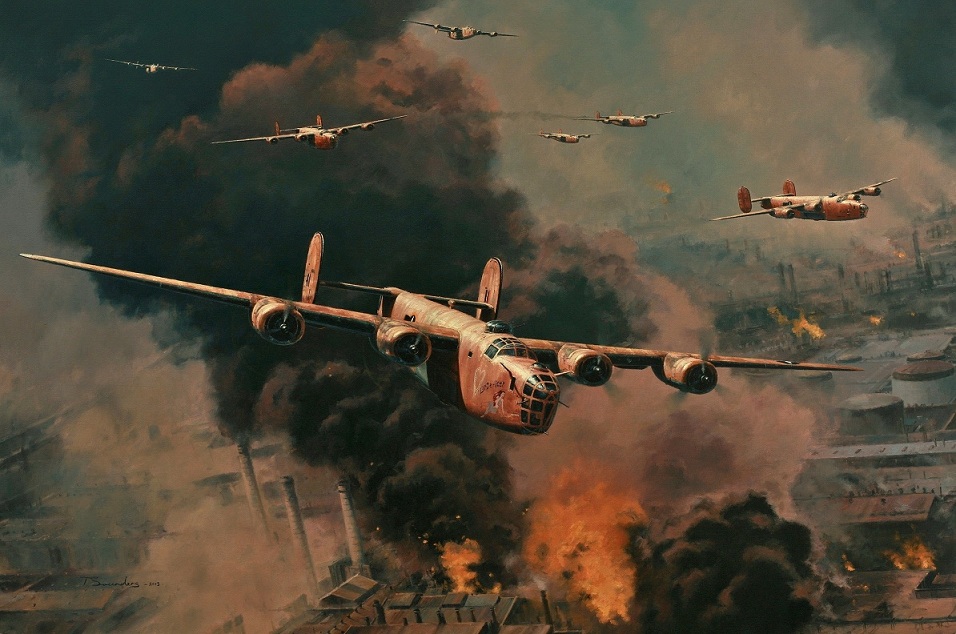 Flying at low-level over the Astra Romana oil refinery, Lt James Merrick of the 98th BG powers his B-24 'Lil De-icer' through the pall of burning debris as time-delayed bombs, dropped in error by a previous Group, explode beneath them. With any hope of surprise now lost, and taking heavy losses in the process, the crews of the 98th bravely hold their bombers on course.
Anthony Saunders' dramatic piece serves as a lasting tribute to the brave heroes who flew the epic mission. Adding great authenticity, the edition has been personally signed by three veterans who took part:
Capt CHARLES CAVIT
Capt ANDREW OPSATA
Sgt RICHARD TUTTLE
CLICK HERE for more information!