IN STOCK: Giclée Studio Proofs
Four superb Giclées by various artists...
20 July 2021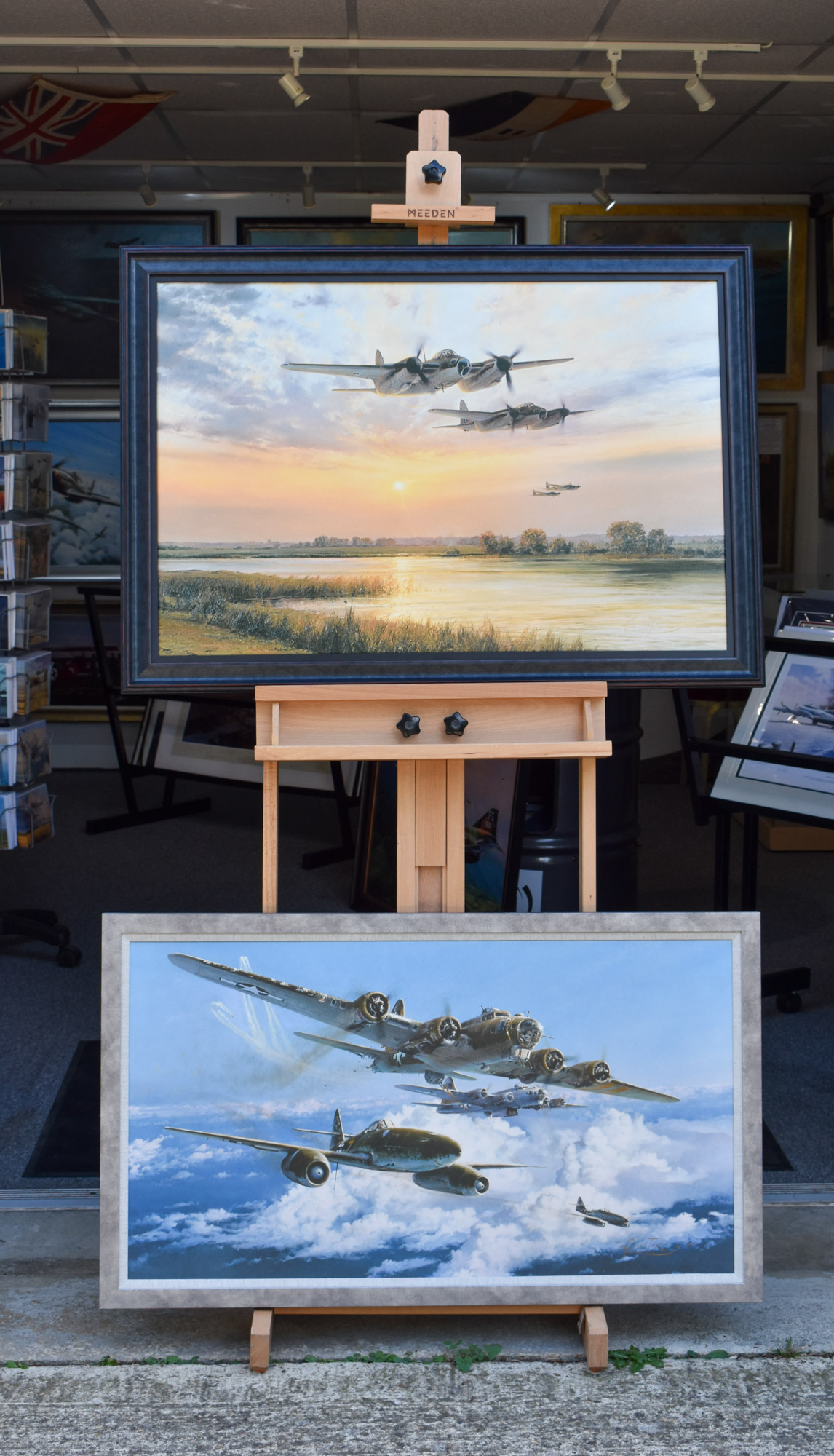 The introduction of ultra-high-definition giclée printing has transformed the aviation art industry.
Reproducing many world-famous paintings with unparalleled accuracy, the technology gives each canvas the tonalities and hues of the original paintings that were previously almost impossible to capture on lithograph.
Each canvas is normally produced to order; however we currently have these stunning pieces IN STOCK and ready for immediate collection or worldwide shipping!
by Robert Taylor - Stretched Canvas @ 36" wide x 24" high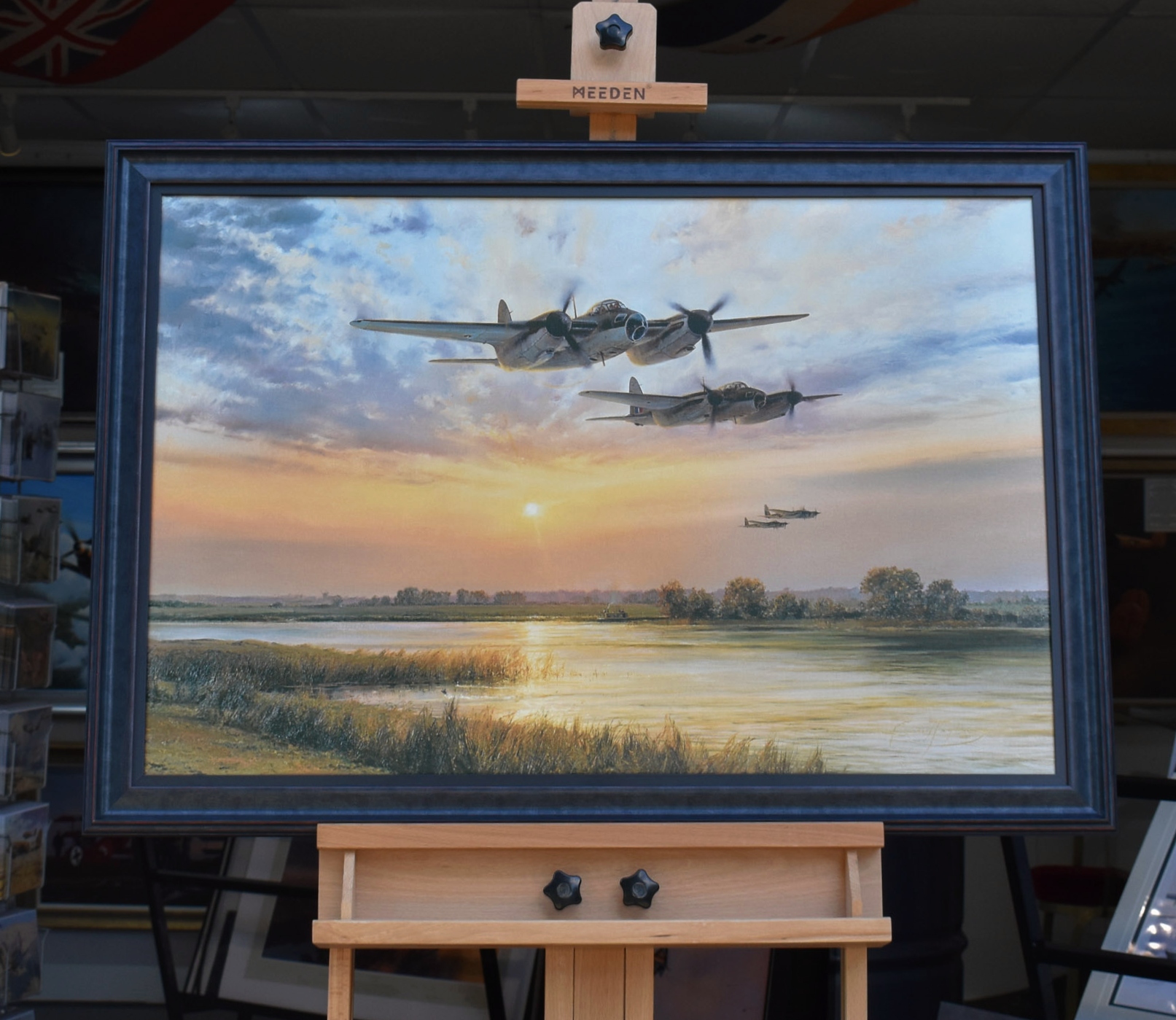 The sudden thunder of Merlin engines shatters the evening silence as two pairs of de Havilland Mosquitos head out over the Norfolk Broads on a low-level precision strike against enemy targets in Holland.
Internationally hailed as one of Robert's most iconic Masterworks, it's easy to see why this is the benchmark against which all other Mosquito pieces are compared. Find out more HERE!
--------------------------------------------
by Anthony Saunders - Stretched Canvas @ 36" wide x 24" high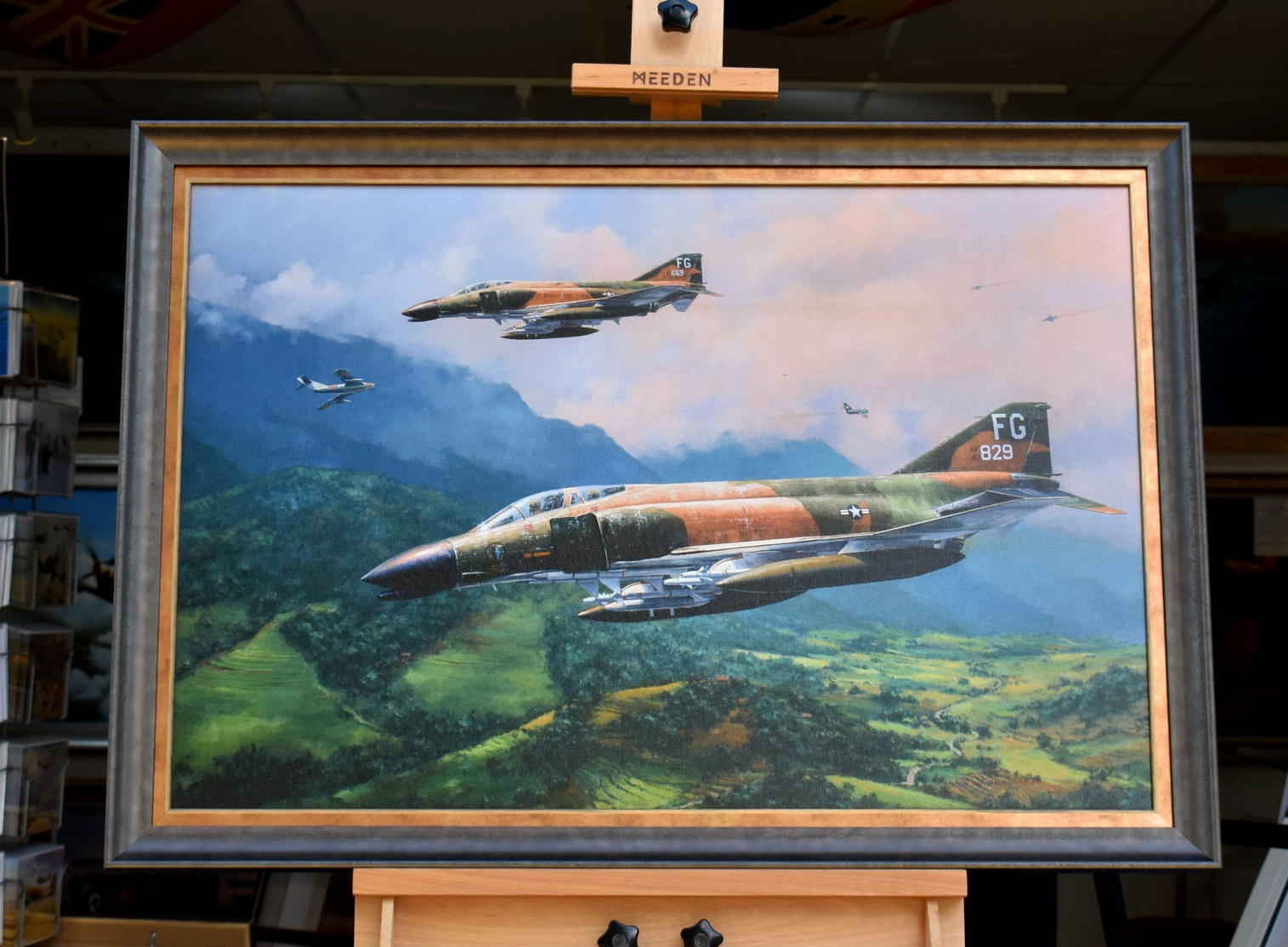 Colonel Robin Olds and his flight of eight F-4 Phantoms from the 8th Tactical Fighter Wing encounter a large group of North Vietnamese MiG-17s over the hills north of Hai Phong, 20 May 1967. During the clash that followed Olds and his WSO 1st Lt. Stephen B. Croker destroyed two MiG-17s.
Already internationally renowned for his superb depictions of WWII scenes, Anthony excelled all expectations with this stunning piece, unbelievably one of his first-ever jet paintings!
Find out more HERE!
--------------------------------------------
by Anthony Saunders - Stretched Canvas @ 36" wide x 24" high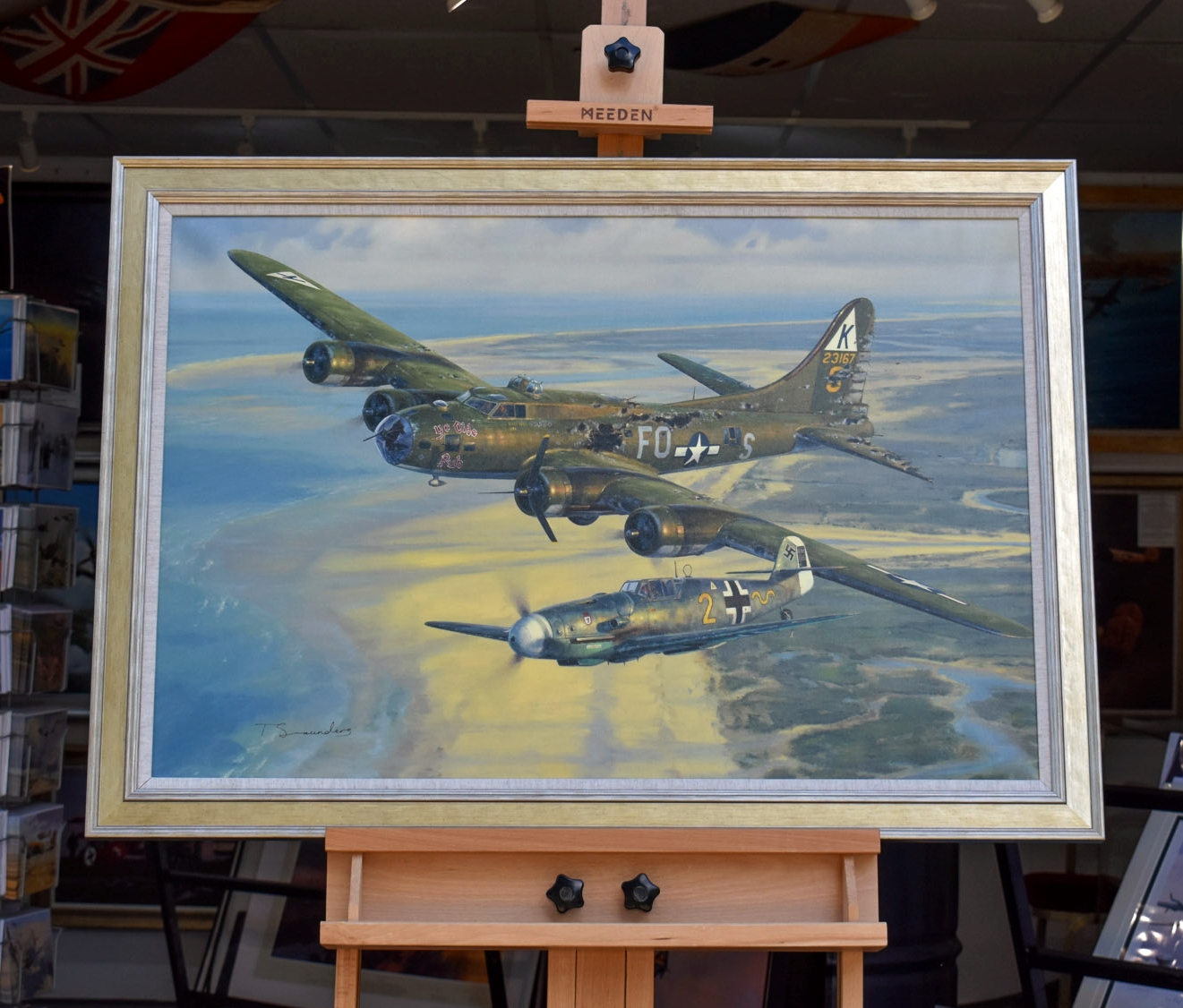 Luftwaffe Ace Franz Stigler declines to destroy a seemingly defenceless and battered B-17 from the 379th BG as it limps home following a raid on Bremen, 20 December 1943. Having assessed the critical state of the Fortress flown by 2nd Lt Charlie Brown, and glimpsed some of the badly wounded men through gaping holes in the fuselage, Stigler decides to escort the bomber to the North Sea coast on a heading for England. In a final act of chivalry, the German pilot looked across at his American counterpart and raised a gloved hand in salute before swinging his aircraft away.
Released in 2019, Anthony's superb piece recreates the now legendary scene as Stigler looks the relieved Brown in the eyes and raises his hand in a 'Salute to the Brave'.
Find out more HERE!
--------------------------------------------
by Robert Taylor - Stretched Canvas @ 38" wide x 21"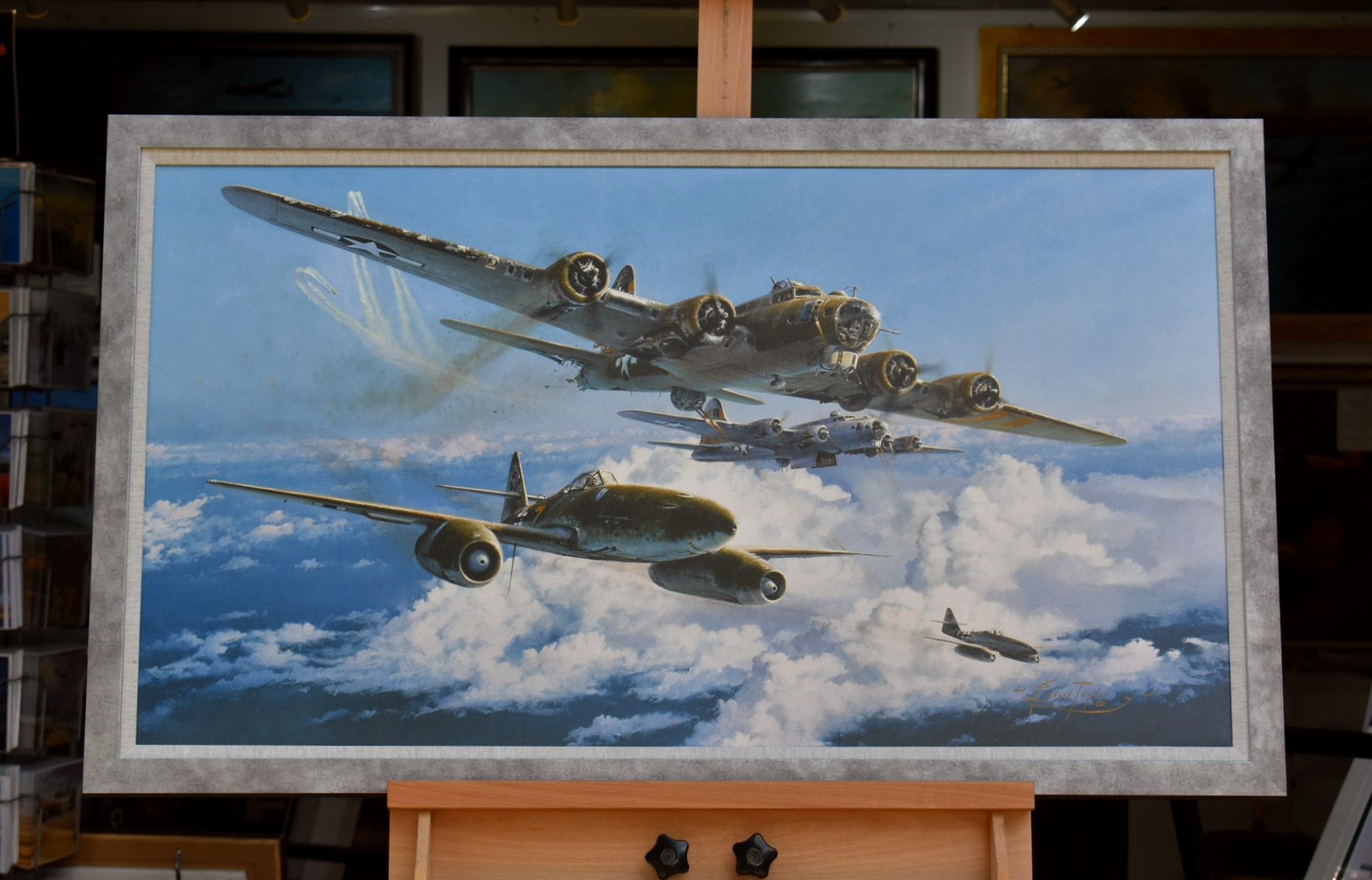 Approaching their target at the oil refinery at Zwickau, 60 miles south west of Dresden, the 452nd BG B-17 Fortresses were bounced by 28 Me262 jets from JG7, 19 March 1945.
Using his remarkable skills, Robert graphically brings to life the potency of the Luftwaffe's radical new jet in one of his most iconic and sought after images. Find out more HERE!
--------------------------------------------
These are just a number of the stunning giclées that are currently available - for more information on these or any other title please
contact us TODAY
!