Normandy Veterans' Signing Event – 16th October
We'll be joined at the gallery in Wendover by highly-regarded WWII veterans who took part in D-Day and the Battle for Normandy as the Allies pushed for victory in Europe.
16 October 2022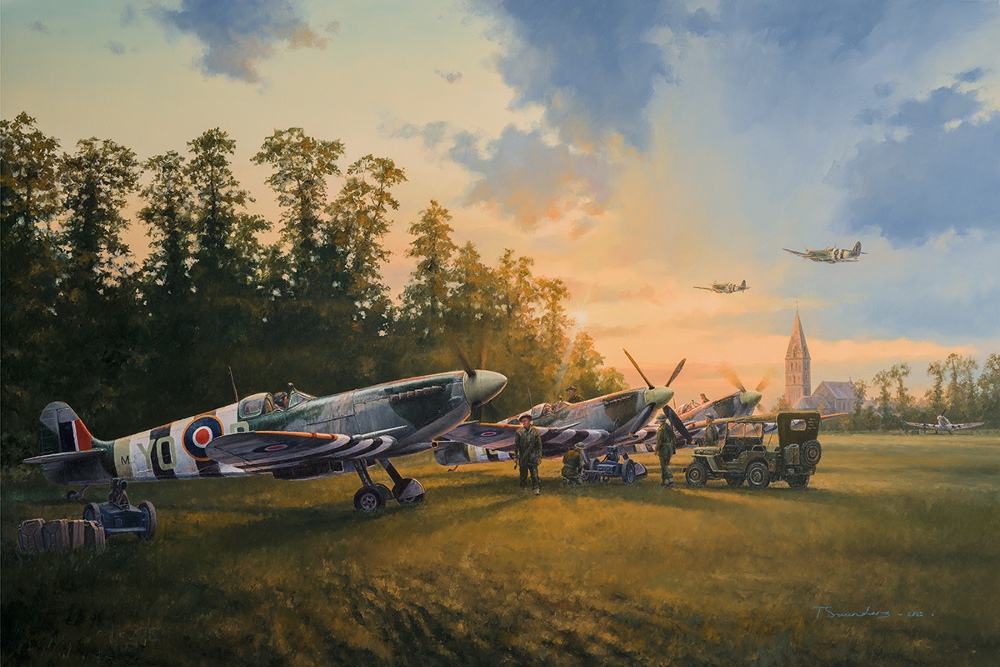 An ideal opportunity to have Anthony Saunders' recent release BREAKOUT FROM NORMANDY signed by the veterans!
Our special guests are looking forward to meeting enthusiasts and signing items for collectors - they include:
Corporal NORMAN GRIFFITHS Ld'H - Norman landed on Juno Beach D-Day +4, originally planned for +2. He was an armourer with the Norwegian Fighter Squadrons 331 and 332 operating Mk.IX Spitfires. The squadron operated under difficult conditions from the front line, using constantly changing makeshift airfields, until the Normandy breakout, then through Europe to Germany by the end of the war.
Trooper BILL GLADDEN Ld'H - originally serving with 154 Royal Armoured Corps, he then joined the 79th Armoured Division Development Unit which helped in the improvement of Hobart's 'Funnies', Bangalore torpedoes and flail tanks to name but a few. Moving to the 6th Airborne Armoured Recce Regiment on Tetrarch light tanks, they flew out on D-Day in Hamilcar gliders with their landing zone at Ranville, east of the River Orne. Here he was wounded in fighting with Germans and returned home on 21 June.

Leading Aircraftman BERT WESTGATE - having joined the RAF in 1943, Bert initially trained as a Lancaster rear gunner, then prior to D-Day was posted to Compton Bassett, a Radar and Radio training facility, to undertake tactical wireless operator training. He was then re-posted to Portland, Weymouth, in early June 1944 and crossed the channel to Omaha beach on D-Day +6 with American forces where he undertook radio van operator duties following the 21st Army Group through Normandy, France and into Belgium.
Able Seaman GEORGE CHANDLER MiD Ld'H - having joined the Royal Navy in 1943 aged 18, George served as a Gun Layer on MTB 710, 59th flotilla on coastal defence duties, with regular channel night-time enemy engagements. In the run up to D-Day they trained with US Rangers on the south coast, honing troop seaborne manoeuvres and on D-Day itself served as a defence escort to invasion forces in the American sector close to Omaha beach. George later served in the Mediterranean theatre, Adriatic Sea, in close operational support with the LRDG and SBS special duties sections.
Private VICTOR MACKENZIE Ld'H - joining the Home Guard aged 16 in 1940, Vic went on to join the King's Royal Rifle Corps. Responding to a call for drivers for the Royal Army Service Corps and following extensive training, he landed on Gold Beach in the days after D-Day driving with the Close Support Group, 7th Armoured Division, landing essential supplies and ammunition.
Private DON TINDALL - joining the Royal Army Ordinance Corps in April 1944, Don became a driver posted to Donington 29VRD RAOC, a major invasion vehicle depot. In the build-up to D-Day he was posted to vehicle embarkation duties at the East India docks and served loading vehicles on to supply ships for Normandy. In late June, he served with supply vessels to Mulberry B, unloading and delivering vehicles to vital in-land RASC front line resupply depots. Don finished his service with various home front postings, including POW duties and postings with the RAOC and No 10 AFV (armoured fighting vehicles).
Watch this space for more!
Entry is completely FREE, all we ask is that you RESERVE YOUR TICKET in advance to help us manage numbers and make it relaxed and comfortable for everyone.
Our guests are happy to sign autographs for collectors and items purchased at the event over £60 can be signed free of charge.
Bookings are now being taken so please contact us to secure your place.