STRAGGLER AT DAWN - New Release by Richard Taylor
Richard Taylor pays tribute to the airmen of RAF Bomber Command!
22 December 2019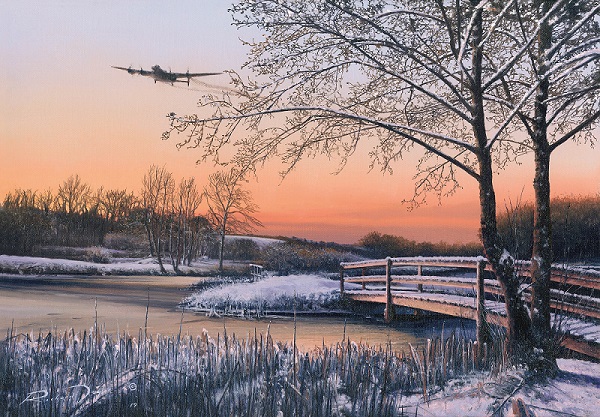 A lone Lancaster, badly damaged by flak over Germany, has fallen further and further behind the main formation. With no co-pilot to relieve him, the exhausted Lancaster pilot has called on help from his flight engineer and between them they have somehow coaxed the battered aircraft onward. With the snow-clad landscape of England once more beginning to appear beneath them, they have finally made it home.
Joining artist Richard Taylor in signing every print are two highly-regarded aircrew who flew Lancasters with RAF Bomber Command during WWII:
Warrant Officer CECIL 'CHICK' CHANDLER Ld'H - Having joined the RAF in 1942 he completed training as a Flight Engineer and was posted to 15 Squadron based at Mildenhall. Here he completed 19 operations, first on Stirlings before re-equipping with Lancasters. In May 1944 he joined 622 Squadron, also at Mildenhall flying Lancasters, for a further nine missions on raids to Germany including Nuremberg and Düsseldorf. He completed a total of 28 operations during WWII.
Wing Commander JOHN BELL MBE DFC - After training as an Observer he flew his first tour as a Bomb-Aimer with pilot Bob Knight's crew in 619 Squadron until the whole crew transferred to 617 Squadron flying the famous Lancaster named Thumper Mk.III. He completed a total of 50 Operations, 29 of which were flown on special missions with 617 Squadron including Operation Taxable and he finished the war as an instructor.
This would be an ideal print to get additionally signed at our upcoming Bomber Command Signing Event!