RAF BOMBER COMMAND SIGNING EVENT - 17th November
As a tribute to the brave men who served with RAF Bomber Command during WWII, we are delighted to be hosting some amazing aircrew at the UK Gallery to meet enthusiasts and sign items for collectors.
17 November 2019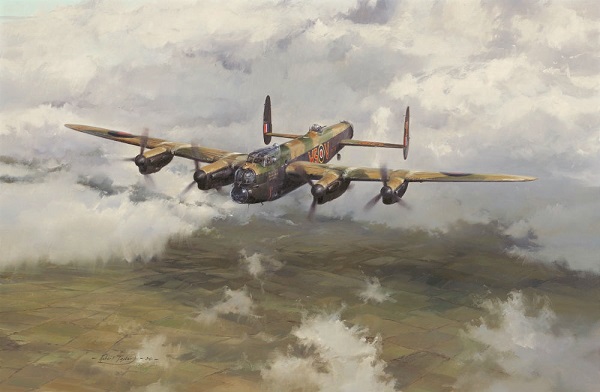 Our special guests include:
Flight Lieutenant COLIN DEVERELL DFM Ld'H - joining RAF Bomber Command in 1941, he flew as a Flight Engineer on Lancasters with 90 Sqn. He completed 34 Ops including raids over the Ruhr, Berlin and the V2 Rockets in Peenemunde. In 1944, S.O.E (Special Operations Executive) dropped weapons and wireless equipment to the French Resistance and in April 1945, dropped food parcels to the Dutch on Operation Manna. After the war, Colin flew Avro Yorks for Transport Command to India and Singapore.
Warrant Officer HENRY WAGNER - as a Flight Engineer with 51 Sqn flying Halifaxes, Henry was shot down just before Christmas 1944 and spent the last 6 months of the war as a PoW in Stalag Luft VII.
Warrant Officer CHARLIE DARBY - served with both 462 and 466 Sqns from RAF Driffield in Yorkshire as a Rear Gunner on Halifaxes. He completed 30 Ops over Holland and Germany and also on bombing missions on the Falaise Gap and the Ardennes in support of the Allied advance through France and Belgium.
Flight Lieutenant GEORGE DUNN DFC MiD - after training as a Pilot, George flew Halifaxes with 76 Sqn on bombing raids over Germany. His missions included the V1 and V2 rocket factory and testing site at Peenemunde. After completing 30 operations he converted to fly Mosquitos for Pathfinder Force with 608 Sqn and flew a further 14 missions.
Flight Lieutenant BOB LEEDHAM - originally a Pilot on Beauforts with 86 Sqn, Bob then joined 90 Sqn equipped with Stirlings and completed a full tour of Operations. Having finished this first tour, he was later attached to 57 Sqn on Lancasters as a revision instructor brought in to help reduce the number of losses of new and inexperienced crews. Post-war with BOAC he flew the first Comet 4 transatlantic flight from New York to London.
----------------------------------------------------------------------------------------------------------------
Entry is completely FREE, all we ask is that you RESERVE YOUR TICKET in advance to help us manage numbers and make it relaxed and comfortable for everyone.
Our guests are happy to sign autographs for collectors and items purchased at the event over £60 can be signed free of charge.
Bookings are now being taken so please contact us to secure your place.
----------------------------------------------------------------------------------------------------------------
Richard Taylor's latest release 'STRAGGLER AT DAWN' would be an ideal piece to have additionally signed by our special guests - Click here for details