FLEET AIR ARM & BOMBER COMMAND SIGNING EVENT - 25th FEBRUARY
For this exciting event we'll be joined at the UK Gallery by both veterans who flew with the Fleet Air Arm and WWII Bomber Command aircrew.
25 February 2018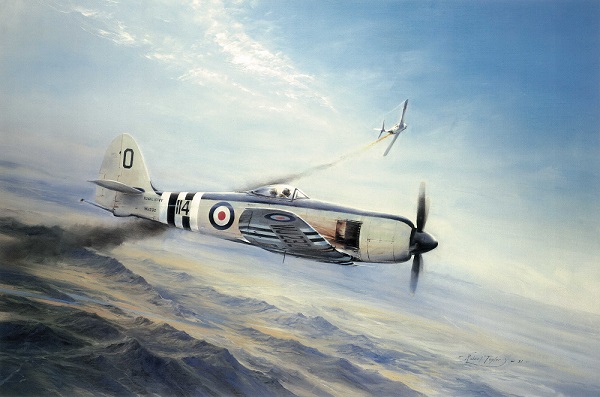 Our special guests include:
Fleet Air Arm
Lieutenant KEITH QUILTER DSC RN - helping form 1842 Sqn in 1944 he served on board HMS Formidable equipped with Corsairs and attacked the Tirpitz three times; twice on strafing missions and a third dive-bomb attack. Sailing to the Far East with the British Pacific Fleet to support US Navy operations, he flew at Okinawa and was involved in sweeps and ground attacks on Japanese airfields on neighbouring islands. Whilst in the Pacific he was shot down attacking a Destroyer but rescued by a US submarine.

Lieutenant Commander BRIAN 'SCHMOO' ELLIS RN - qualifying as a fighter pilot he served with 802 Naval Sqn during the Korean War and Suez Campaign. Whilst flying a Sea Fury from HMS Ocean in Korea in 1952 alongside famous pilot Peter 'Hoagy' Carmichael, Brian was involved in a dogfight with MiG-15s which resulted in him defeating one over Pyongyang. New research has now credited this as the first recorded Royal Navy victory of a piston-engine aircraft over a jet fighter in the Korean War. He later flew Sea Vixens with 890 Sqn and still flies today!

An ideal opportunity to have a copy of SEA FURY additionally signed!
RAF Bomber Command
Air Commodore CHARLES CLARKE OBE - he served as a Bomb Aimer with 619 Sqn flying Lancasters, first from Woodhall Spa and then Coningsby. He had already flown on raids to Berlin, Stuttgart and Leipzig but on 24 February 1944, his aircraft was shot down by night-fighters during a raid on Schweinfurt in Bavaria. Parachuting out, he landed in the snow but was captured a few days later and sent to Stalag Luft III, the location of the 'Great Escape'. Before being liberated at the end of the war he survived the 'Long March' when, in early 1945, more than 80,000 prisoners were force-marched in temperatures of -30C from Poland back to Germany.

Flight Lieutenant RUSSELL 'RUSTY' WAUGHMAN DFC AFC - volunteering for the RAF in 1941, he trained in Canada and qualified as a heavy bomber pilot. Posted to 101 (Special Duties) Sqn at RAF Ludford Magna in Lincolnshire, he flew Lancasters completing a full tour of 30 operations, including the Nuremberg raid on 30 March 1944 in which almost one in four 101 Sqn aircraft were lost. He also survived several major incidents such as a mid-air collision and later, on the night of 3/4 May 1944, having his Lancaster flipped upside down by an explosion whilst over the target at Mailly-le-Camp in France.
Entry to our Gallery events is FREE but for safety reasons it is important to RESERVE YOUR TICKET IN ADVANCE. Unfortunately, on event days, we can't allow entry to anyone who hasn't reserved a place. Even if you're not 100% sure that you can make it, please book your place in advance and if your plans change, just let us know.
Bookings are now being taken so please contact us to reserve your place!