BOMBER COMMAND SIGNING EVENT - 28th JANUARY
We're delighted to be joined at the UK gallery in Wendover by highly-distinguished veterans who served with RAF Bomber Command during WWII.
28 January 2018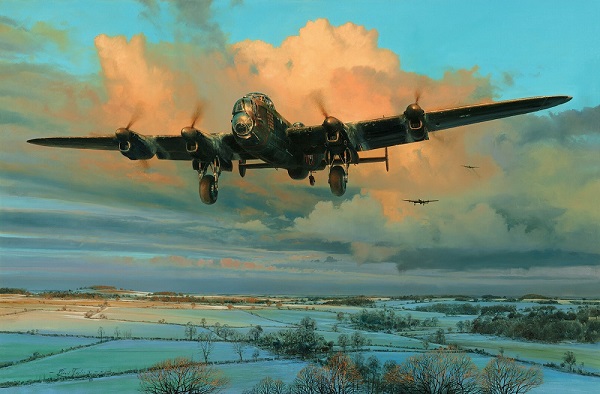 Our special guests include:
Warrant Officer HAROLD KIRBY - as a Flight Engineer he originally served with 467 Sqn at Waddington on Lancaster's before he and his crew volunteered for Don Bennett's Pathfinder Force. Joining 97 Sqn he completed a full tour of 30 operations as a Pathfinder.
Warrant Officer ROY BRIGGS - posted to 576 Sqn at RAF Fiskerton he served as a Wireless Operator on Lancasters. Flying 10 Ops', his missions included raids on Plauen and Bremen before taking part in Operation Manna. As the war ended he transferred to 156 Pathfinder Sqn.
Flying Officer TOM SAYER DFM - served as a Pilot on Whitleys with 10 OTU from St Eval and later 102 Sqn at Pocklington flying Halifaxes. He completed 35 Ops' before becoming an Instructor on with 81 OTU and trained crews to drop agents and SOE agents behind enemy lines.
Flying Officer VIC FARMER - volunteered for the RAF at the age of 18 and trained as a Navigator in South Africa. He completed 32 Ops' on Lancasters with 550 Sqn before it was disbanded at the end of the war in Europe. He then went on to be a Navigator Instructor, training former PoWs to bring them up to speed with developments.
Entry to our Gallery events is FREE but for safety reasons it is important to RESERVE YOUR TICKET IN ADVANCE. Unfortunately, on event days, we can't allow entry to anyone who hasn't reserved a place. Even if you're not 100% sure that you can make it, please book your place in advance and if your plans change, just let us know.
Bookings are now being taken so please contact us to reserve your place!