De Havilland Mosquito Aircrew Signing Event – 29th January
With leading aviation artist Anthony Saunders and our friends from The People's Mosquito! Banish those January blues by joining us at the Wendover Gallery for what promises to be a memorable event to launch Anthony's new print MOSQUITO THUNDER...
29 January 2023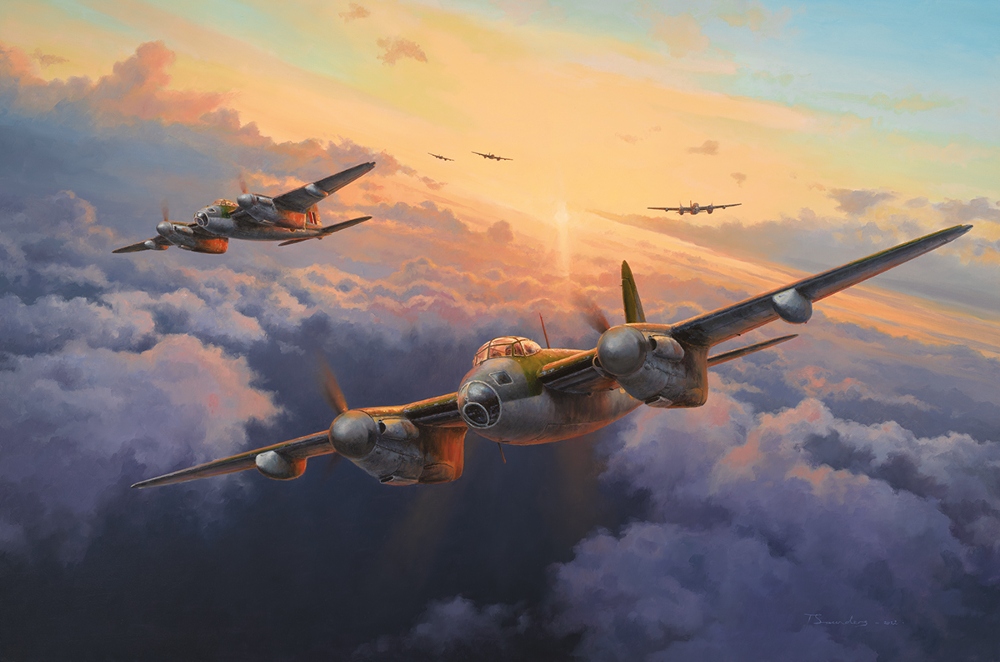 We'll be joined by veterans who flew the versatile 'Wooden Wonder' to meet enthusiasts and sign copies of Anthony's new print. Our special guests include:
Aviation Artist ANTHONY SAUNDERS – one of the most talented Aviation and Military artists in the industry, Anthony possesses a superb grasp of the speed and power required when portraying scenes of aerial combat. His ability to bring to life breathtaking skyscapes alongside machines of aerial combat with the rich colours are the result of many hours researching every composition to ensure that it is historically and technically correct in every detail.
Flight Lieutenant DES CURTIS DFC – serving as a Navigator he joined 235 Sqn on Beaufighters over the North Sea and Norwegian coast. In April 1943 he converted to Mosquitos and helped form 618 Sqn for special operations against the German Battleship Tirpitz. He then flew from bases in Cornwall attacking U-Boats in their pens along the French Atlantic Coast and in September 1944 joined 248 Sqn as part of the Banff Strike Wing flying Mosquitos out of Scotland.
Flight Lieutenant GEORGE DUNN DFC MiD – after training as a Pilot, George flew Halifaxes with 76 Sqn on bombing raids over Germany. His missions included the V1 and V2 rocket factory and testing site at Peenemunde and after completing 30 operations he converted to fly Mosquitos. Volunteering for the Pathfinder Force he joined 608 Sqn and flew a further 14 missions, all of them to Berlin.
Flight Lieutenant WALTER FORSTER – based in Germany after the war in 1946 he flew Spitfires and then Mosquitos with 98 Sqn. Moving back to the UK he flew Meteors with 65 Sqn from Duxford before moving again to Germany with 234 Sqn flying Hunters. Posted to RAF Leuchars in Scotland with 43 Sqn he again flew Hunters before moving back to Germany on an exchange with the new German Airforce instructing young pilots on the Fouga Magiser jet trainer.
--------------------
Entry is completely FREE, all we ask is that you RESERVE YOUR TICKET in advance to help us manage numbers and make it relaxed and comfortable for everyone.
Our guests are happy to sign autographs for collectors and items purchased at the event over £60 can be signed free of charge, all other items are subject to a signing fee.
Bookings are now being taken so please contact us to secure your place.