World War 1 Collector's Pieces
A moving pair of prints commemorating the First World War...
19 November 2020
Framed prints by Anthony Saunders paying tribute to all those who fought during the Great War 1914 - 1918 ...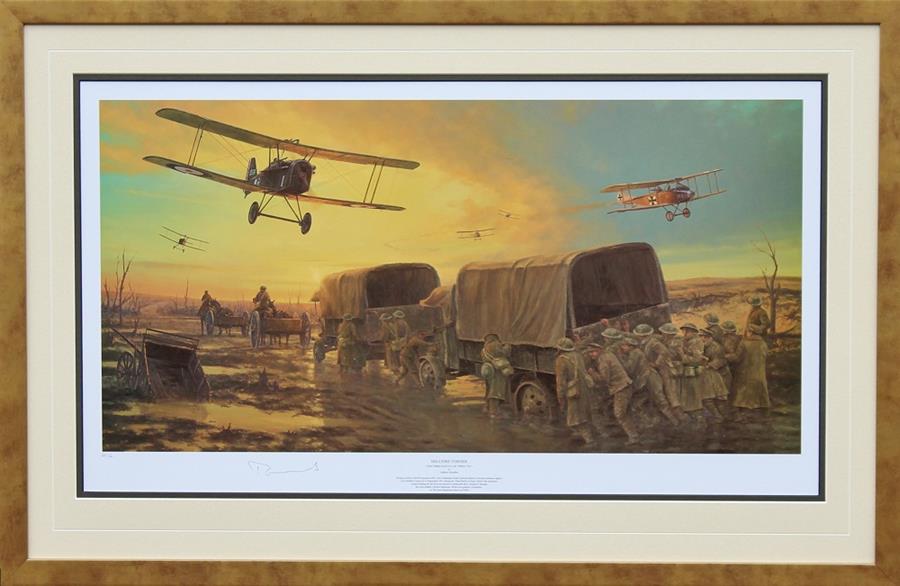 Well within sight and range of the enemy's guns, British soldiers fight to manhandle their 'transport' through the treeless landscape towards Passchendaele during the Third Battle of Ypres in 1917. Overhead, an SE5a of 60 Sqn RFC battles a German Albatross.
This exposed section of road linking Ypres to the Front gained a fierce reputation as 'the most dangerous corner on Earth'. Anthony's moving piece serves as a lasting tribute to all those who fought here and throughout WWI.
FIND OUT MORE ABOUT HELLFIRE CORNER HERE!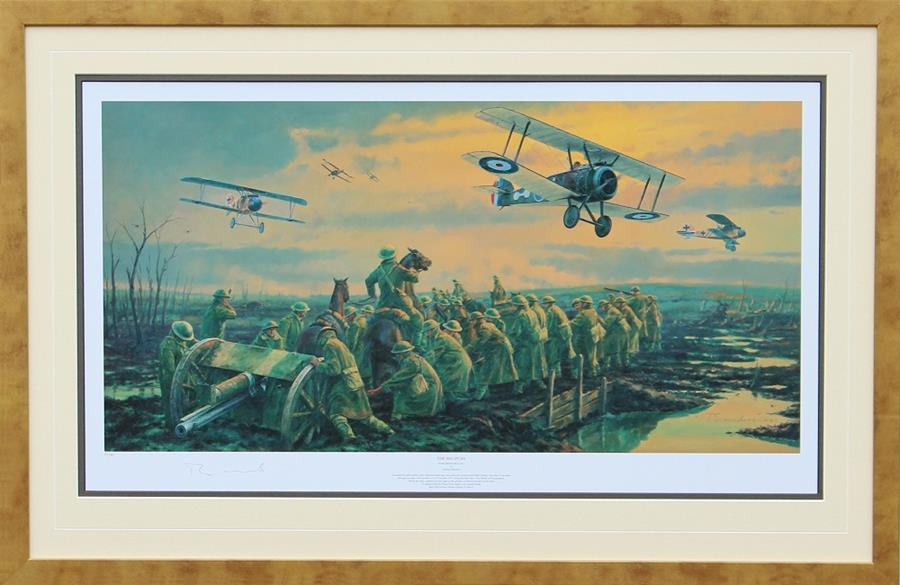 Swamped by mud amidst a desolate, shattered landscape, men and horses of the Royal Field Artillery drag their 18 pounder field-gun towards a new position on 15 November 1917, during the final days of the Battle of Passchendaele. Whilst the army continues its grim fight on the ground, overhead Sopwith Camels from 45 Sqn RFC tangle in an equally deadly duel with German Albatros fighters of Jasta 6.
Anthony's powerful piece portrays the bleak sacrifice made by so many heroic young men during WWI. The names of the bitter battles they endured, however, still live on a hundred years later – Ypres, the Somme, Vimy Ridge, Arras, Loos – and one of the most savage – Passchendaele.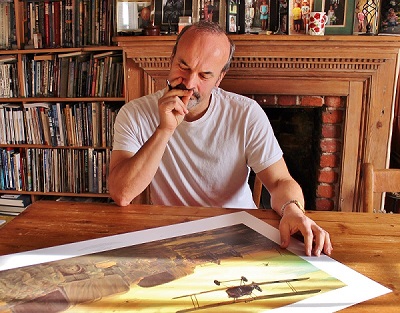 Each print is individually numbered and signed by the artist, Anthony Saunders.
Framed prices: £295 each
Un-framed from: £110 each


REMARQUE EDITIONS AVAILABLE WHILST STOCKS ALLOW
The perfect way to embellish these magnificent pieces! Widely considered as some of the best and largest in the industry, Anthony's unique pencil remarques are individually created in the lower margin of a print.
Remarques: £365 each
Double Remarques: £565 each