Tank Pieces - IN STOCK!
These memorable pieces featuring a variety of tanks are immediately available for collection, framing or worldwide delivery!
20 November 2020
by Nicolas Trudgian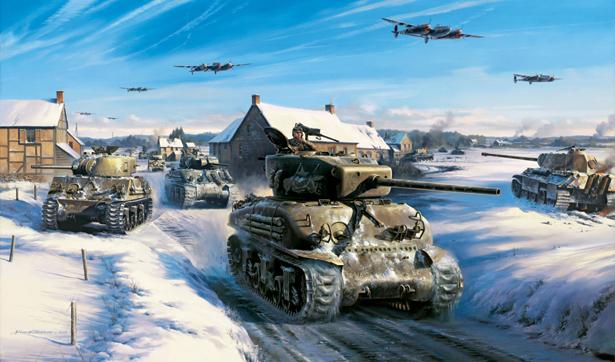 On 24 December 1944 at Hèdrée, Belgium, General Rose of the 3rd Armored Division put out the warning: there can be no retreat from the German onslaught "or there will be a war to be fought all over again". His "Spearhead" tankers of Easy Company, 32nd AR, took the message to heart.
With this message ringing in their ears, they went on the offensive, cutting the N4 road and buying time for reinforcements to reach the Battle of the Bulge. The Allied counterpunch also continues in the skies above as P-38s of the 370th FG as they to hunt their targets.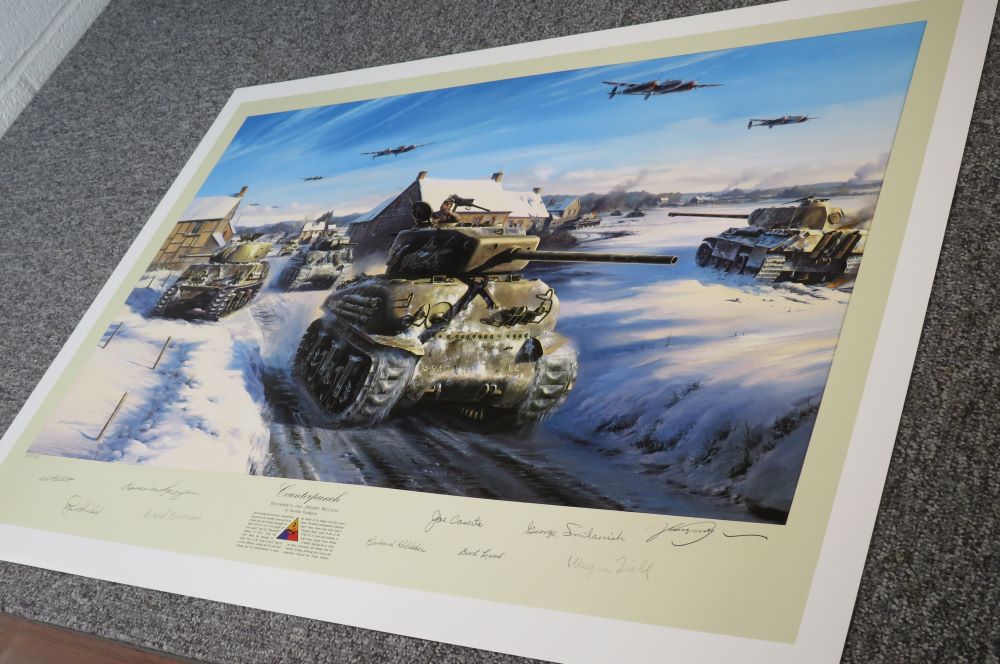 We're delighted to have ONE COPY ONLY of this super print which has been signed for posterity by no less than NINE veteran heroes of 'Spearhead':
Corporal CLARENCE SMOYER
Sergeant JOE CASERTA
Private 1st Class BRAD FREEMAN
Private GEORGE SMILANICH
Private 1st Class WAYNE FIELD
Commander RICHARD ROHLEDER
Captain JAMES KUNKLE
Rifleman BUCK MARSH
1st Lieutenant BOB PARRY
ONE COPY ONLY: £495
by Simon Smith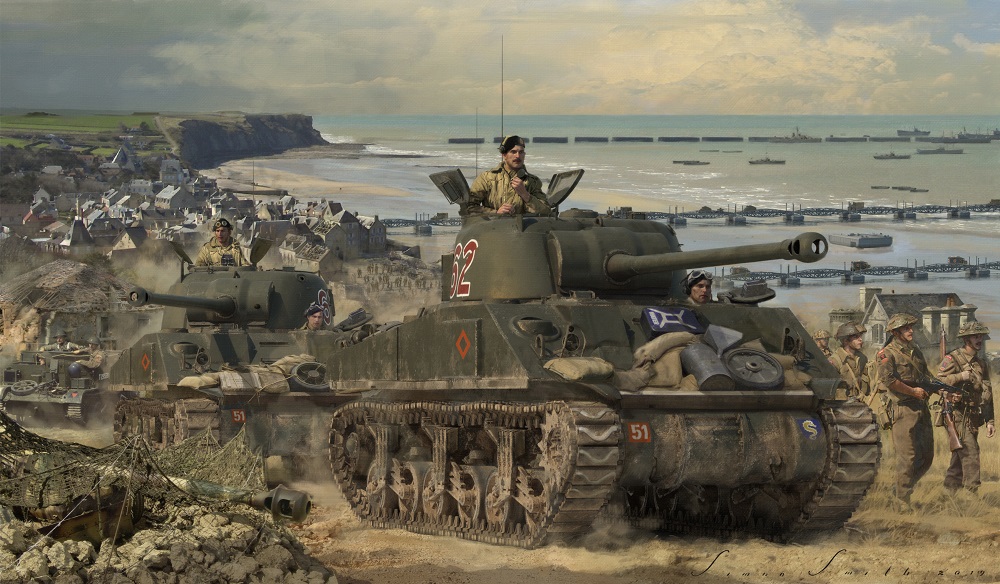 Sherman 'Firefly' tanks of the 13th/18th Royal Hussars Regiment, 8th Armoured Brigade, move out in formation with troops from The Devonshire Regiment as they join the Battle for Normandy. In the distance, reinforcements pour ashore using the vast pre-fabricated Mulberry Harbour at Arromanches, June 1944.
Released in 2019 to commemorate the 75th Anniversary year of D-Day, this memorable print is signed and authenticated by veterans who fought bravely in Normandy including Spr GEORGE BATTS MBE Ld'H - Royal Engineers, British Army.
Prices from: £110
by Nicolas Trudgian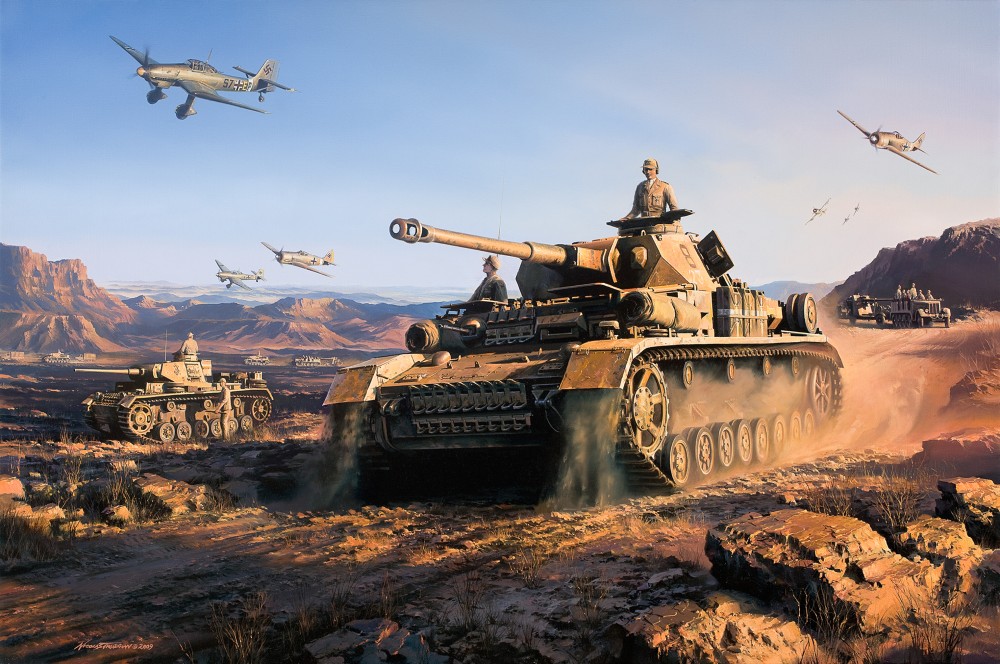 Elements of the 10th Panzer Division, Army Group 'Afrika' counter-attack Allied Forces around Tebourba in northern Tunisia, early Spring 1943. Overhead, air support is provided by the Ju87Ds of St.G3 and the formidable Fw190A fighters of II/JG2.
Joining the artist in signing this striking Eagle Edition print are SEVEN Knight's Cross recipients who fought in the Desert: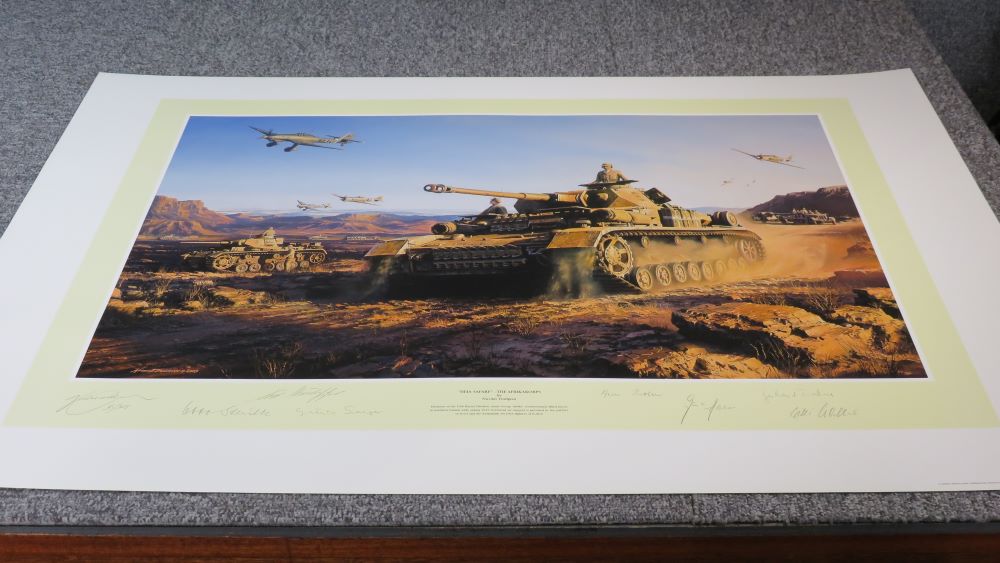 Hauptmann GERHARD FISCHER KC
Leutnant GÜNTER HALM KC
Oberfeldwebel HANS KROHN KC
Leutnant WILHELM NOLLER KC
Oberleutnant OTTO SCHULTZ KC
Oberleutnant GÜNTHER SEEGER KC
Major ERICH RUDORFFER KC w/ Oak Leaves & Swords
Eagle Edition: £180
by Richard Taylor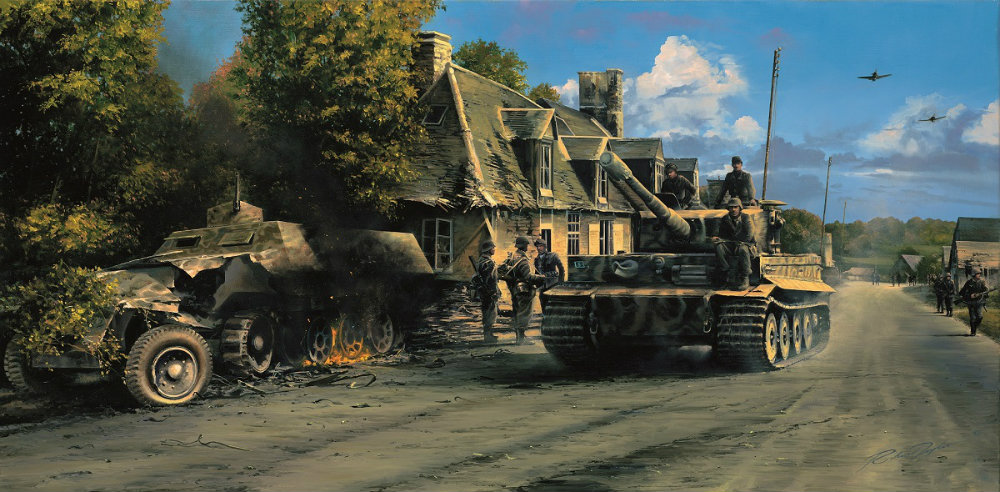 Skilfully led by their mercurial commander, SS-Hauptsturmführer Michael Wittman, the Tiger Tanks of s.SS-PZ. Abt. 101 blaze through a shattered French Village in the days following D-Day, June 1944. Their destination – Normandy!
Prints in this powerful edition are personally signed by Richard along with THREE veterans who served with German Panzer units during WWII: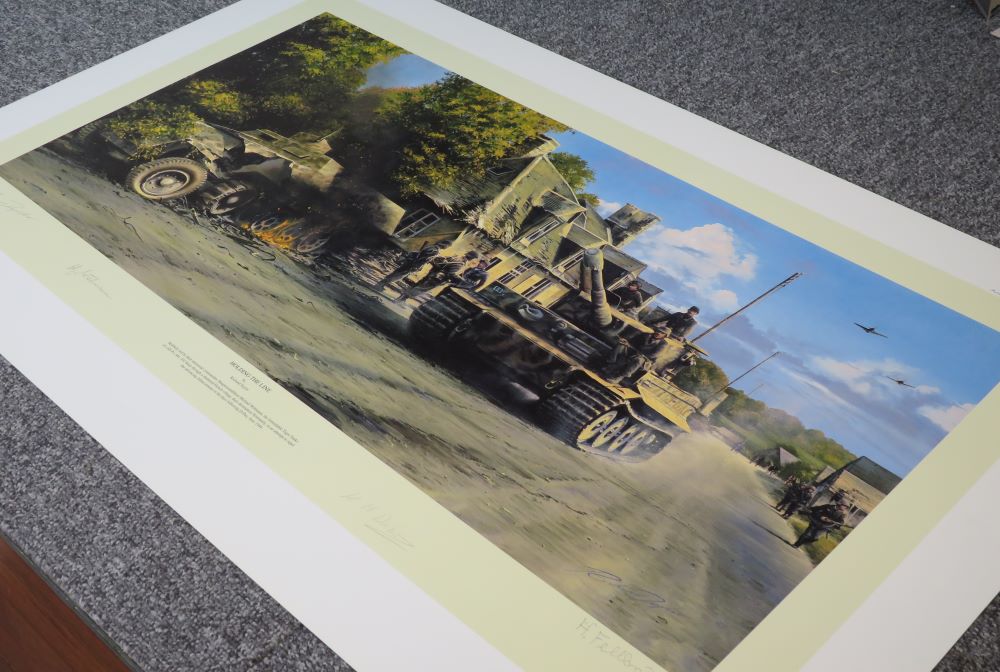 Obergefreiter HENRY METELMANN
Feldwebel HEINZ FELLBRICH
Sturmann KARL-HEINZ DECKER
Prices from £110
Specially commissioned REMARQUE EDITIONS are also available whist stocks allow - CONTACT US for more info.
by Anthony Saunders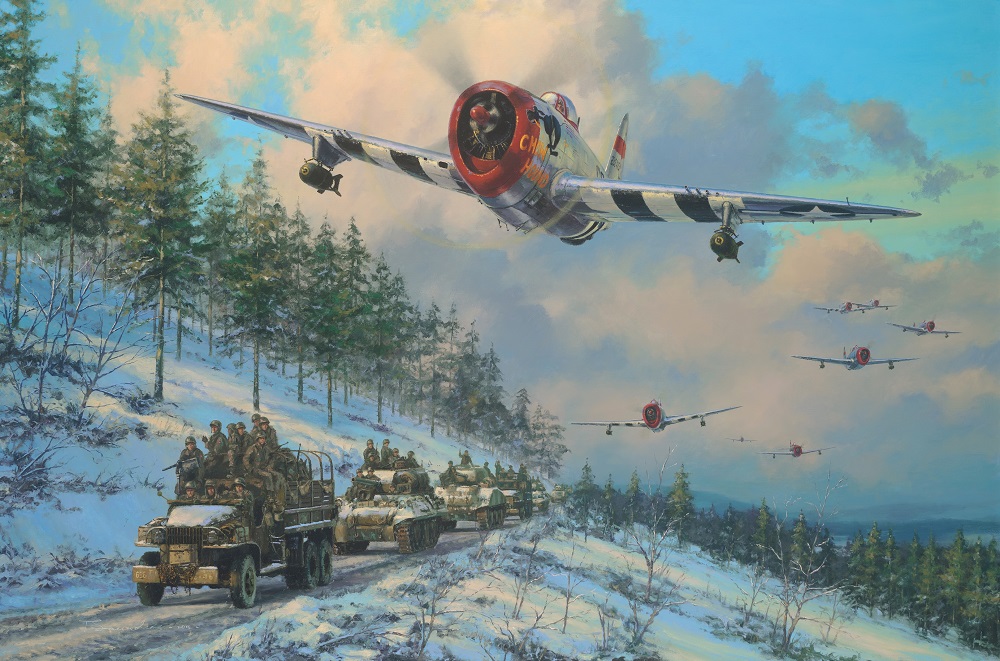 P-47 Thunderbolts of the 509th Fighter Squadron, 405th Fighter Group, pass low over paratroopers of the 82nd Airborne Division advancing through heavy snow during the Battle of the Bulge, January 1945. Major Robert 'Blackie' Blackburn, in his distinctive aircraft 'Chow Hound', leads his unit as they head out on a morning low-level bombing mission.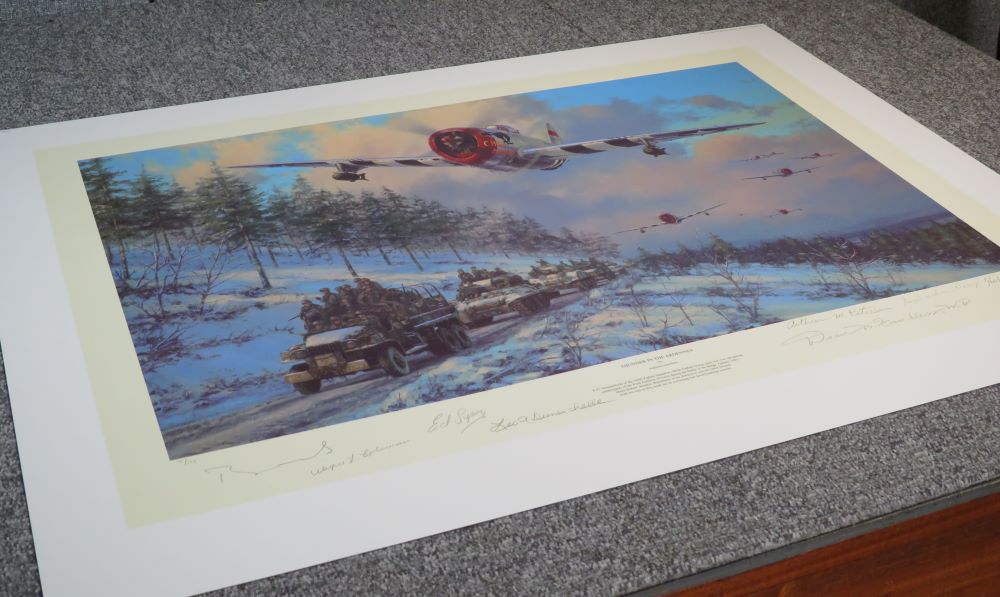 This magnificent piece has been personally signed by Pilots and Paratroopers who took part in this story of grim determination at the Battle of the Bulge, paying tribute to the selfless heroism of those who fought in one of the bloodiest encounters of WWII.
The famous names include:
1st Lieutenant EDWARD J. LOPEZ - P-47s pilot on low level bombing missions with the 365th Fighter Group during the Battle of the Bulge
Staff Sergeant LEO A. DUMOUCHELLE - 82nd Airborne Division paratrooper who he jumped into Sicily, Salerno, D-Day and Holland before fighting during the Battle of the Bulge
TWO and SEVEN signature editions are available.
Prices from: £110
If you'd like a print framed, get in touch so we can help give your copy that extra special treatment!