STORMBIRDS RISING - New Release by Robert Taylor
In stock and ready to ship - order yours today!
31 January 2019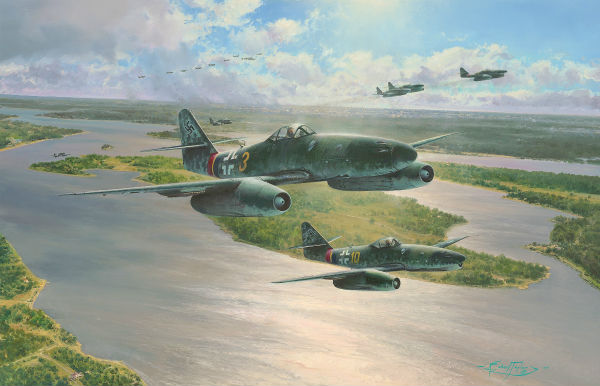 Shortly after leaving their base at Parchim, Leutnant Hermann Buchner, one of the foremost jet Aces of the war, leads the Me262s of III./JG7 as they climb to intercept a large formation of American bombers, during the final weeks of WWII. Below them the tranquillity of the meandering River Havel is a stark contrast to the deadly encounters that will soon take place overhead.
This is a landmark edition from the world's most collected aviation artist with a collection of signatories that will sadly never be repeated.
It's of great historical importance that each print is autographed by some of the most highly-decorated pilots to fly the Luftwaffe's revolutionary jet aircraft, including Hermann Buchner himself.
CLICK HERE for full details or to order your copy - prints are in stock and ready to ship!