Salute to the brave...
Memorable collector's edition by Anthony Saunders...
24 June 2020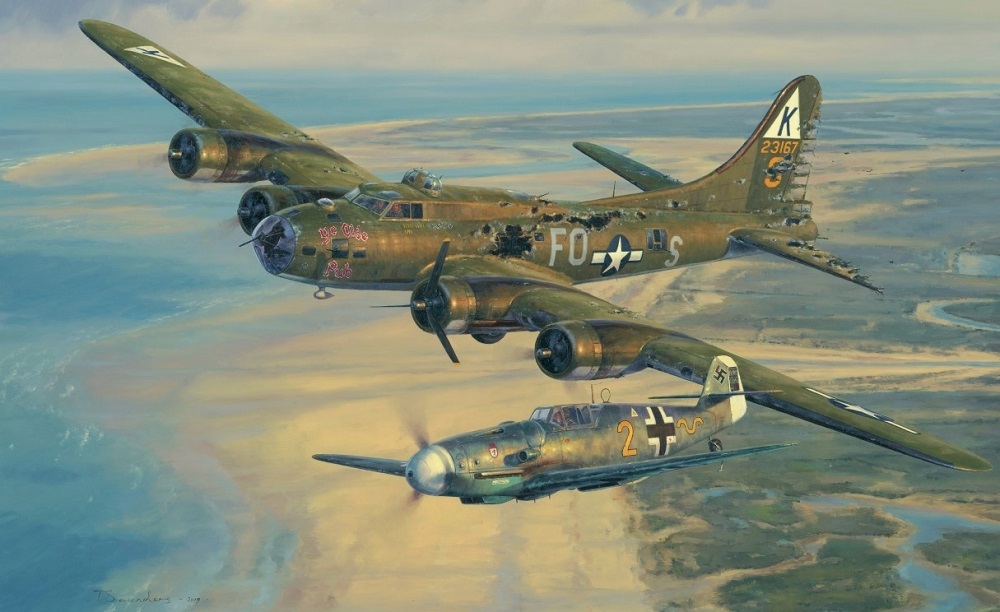 Luftwaffe Ace Franz Stigler declines to destroy a seemingly defenceless and battered B-17 from the 379th BG as it limps home following a raid on Bremen, 20 December 1943. Having assessed the critical state of the Fortress flown by 2nd Lt Charlie Brown, and glimpsed some of the badly wounded men through gaping holes in the fuselage, Stigler decides to escort the bomber to the North Sea coast on a heading for England. In a final act of chivalry, the German pilot looked across at his American counterpart and raised a gloved hand in salute before swinging his aircraft away.
Stigler never reported the incident. Had he done so he would in all probability have been shot as a traitor yet many years later, through serendipity and good fortune, both men would meet again and become firm friends.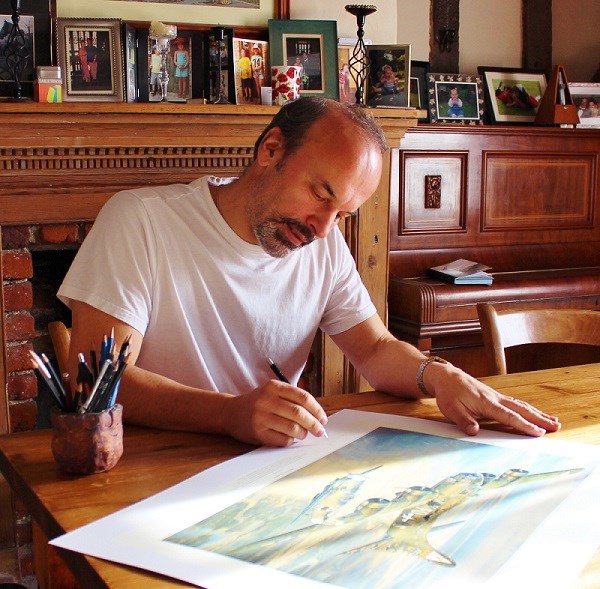 Anthony's superb piece recreates the now legendary scene as Stigler looks the relieved Brown in the eyes and raises his hand in a Salute to the Brave.
Each print is hand numbered and personally signed by the artist.
Prices from £75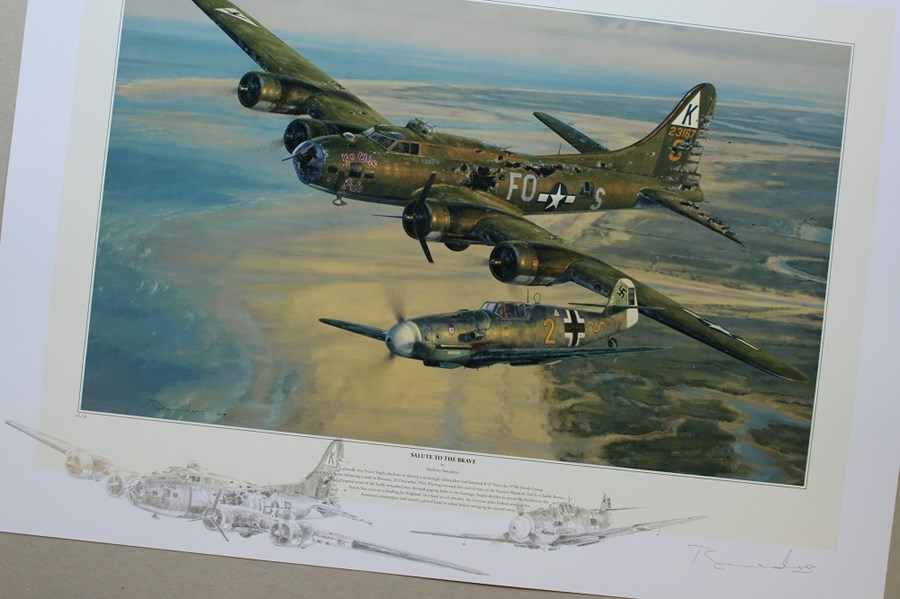 Widely considered as some of the best and largest in the industry, Anthony's unique pencil remarques are individually created in the lower margin of the print. If you have any particular request, such as a specific aircraft or markings, please ask when placing your order and we'll do our best to accommodate.
These are a perfect way to collect original art but demand for these superb creations is such that we urge collectors to reserve their remarques early to avoid disappointment.
Remarques from £365 - CLICK HERE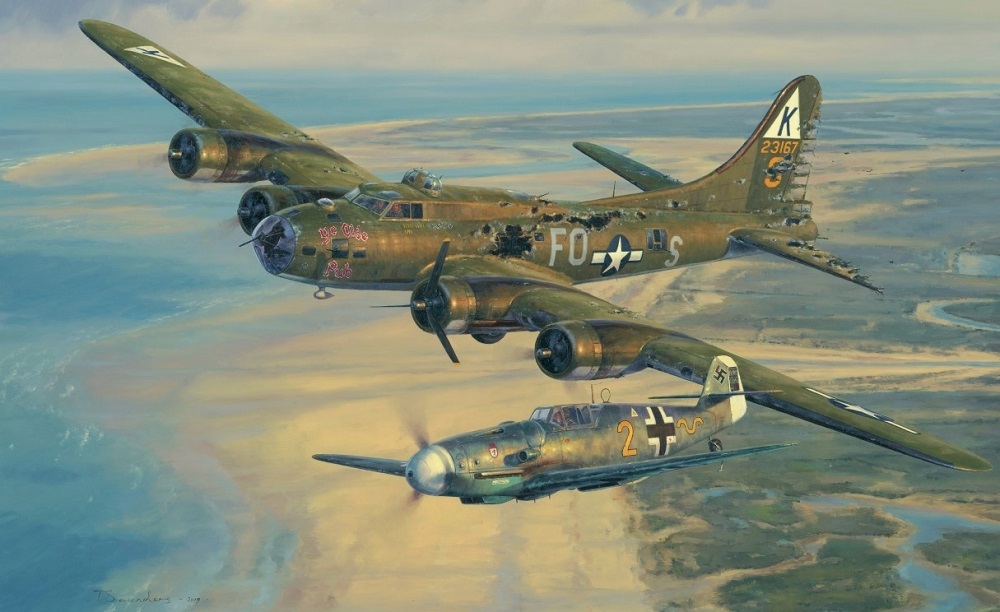 Using the most sophisticated digital Giclée technology, each Studio Proof is printed directly on to fine canvas creating a stunning piece which has all the look and feel of an original painting.
Canvas Proofs £395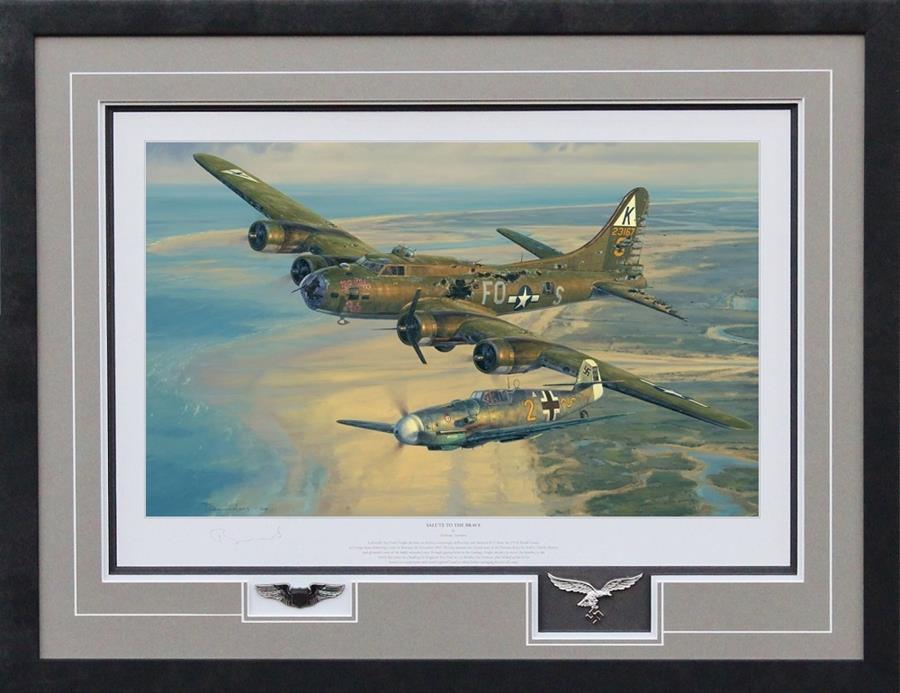 Our expert in-house team have framed this Limited Edition print to full conservation standards to include museum-quality reproduction USAAF & Luftwaffe Wings.
Framed £350 + shipping - CLICK HERE FOR DETAILS
ALTERNATIVE MOUNTING & FRAMING OPTIONS AVAILABLE
Please don't hesitate to CONTACT US to discuss any requirements you may have!