NORMANDY VETERANS' SIGNING EVENT - 14th JANUARY
D-Day 6th June 1944 changed the course of the war in Europe. For our first event of 2018 we'll be joined at the UK Gallery veterans who took part in this historic period in history.
14 January 2018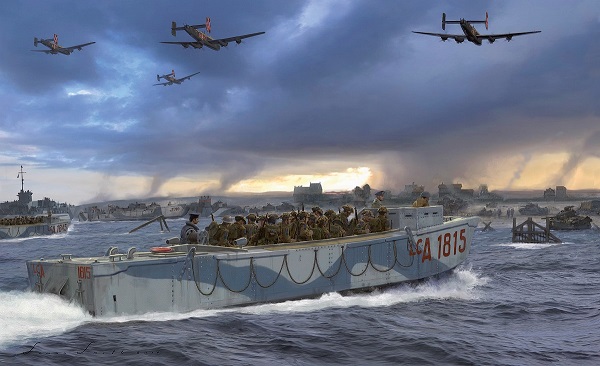 Our sepcial guests include:
Coxswain ROY HOTCHINGS Ld'H - serving with No. 47 Royal Marine Commando he landed on Gold Beach close to Asnelles early on D-Day. Despite the unit encountering mines and beach obstacles with heavy losses, they advanced towards their primary objective of Port-en-Bessin which they captured by 8th June.
Seaman VICTOR URCH Ld'H - Vic joined the Royal Navy in 1943 and on D-Day served as a Gunner aboard Landing Craft LCI(L)390, part of 253 Flotilla. Whilst he exchanged fire with enemy defences, the crew ferried Canadian Infantry to Juno Beach and they continued to carry troops and supplies across the channel for another two months.
Craftsman DOUG AUSTIN Ld'H - serving in the British Army, Doug fought as part of the 3rd Battalion Scots Guards, 6th Tank Brigade, throughout Normandy. He saw action during the fierce battle for Caen, through Villers-Bocage and the Falaise Gap all the way to Germany on VE-Day.
Driver FRED HARRIS Ld'H - serving as a Reconnaissance Engineer with 621 Field Squadron, Royal Engineers, he landed on Gold Beach via the Mulberry Harbour and continued clearing a path at the head of column through Normandy all the way to Berlin.
Entry to our Gallery events is FREE but for safety reasons it is important to RESERVE YOUR TICKET IN ADVANCE. Unfortunately, on event days, we can't allow entry to anyone who hasn't reserved a place. Even if you're not 100% sure that you can make it, please book your place in advance and if your plans change, just let us know.
Bookings are now being taken so please contact us to reserve your place!