HEADLONG INTO THE CLASH - New Release by Robert Taylor
A powerful new edition documenting one of the greatest air battles of WWII.
25 March 2018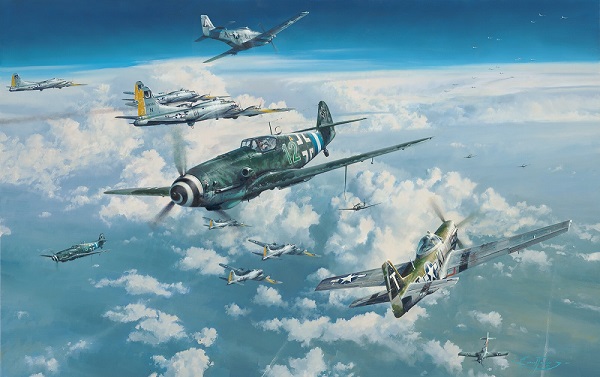 14 January 1945; and the war was not going well for Germany. The noose was tightening as the Allies, having broken out from their Normandy landings seven months earlier, stood on the banks of the Rhine. On their bomb-cratered airfields the Luftwaffe prepared for the final onslaught during the Defense of the Reich.

Robert Taylor's painting captures a moment during that massive aerial battle as enemy fighters from JG300 and JG301 make a head-on attack through a close formation of B-17s from the 390th Bomb Group near Ludwigslust. But their ever-vigilant P-51 escorts quickly engage the enemy with devastating results.

The prints are autographed by iconic USAAF and Luftwaffe veterans who fought during the Defense of the Reich, adding great historical importance to this stunning release.

Reminiscent of some of Robert's classic masterworks such as COMBAT OVER THE REICH and STRUGGLE FOR SUPREMACY, this new release has all the hallmarks of a defining piece in his illustrious career.

Orders are now being taken so please contact us now for further information or to secure your order.