EAGLES' WINGS - New Release by Richard Taylor
An outstanding graphite edition signed by four famous Luftwaffe pilots!
12 September 2018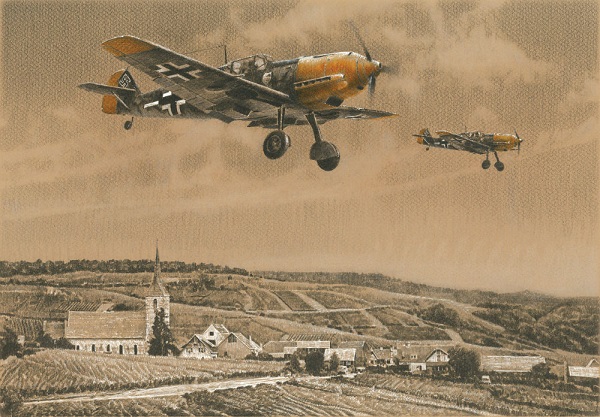 Richard's superb masterwork portrays the iconic Bf109 at its greatest – during the summer of 1940. With Poland crushed and the Battle of France now over, the Battle of Britain has begun. Yet amidst the fury of war tranquillity reigns over the French countryside as a pair of Bf109s prepare to touch down at a forward airfield.
Each print is personally signed by four iconic Luftwaffe fighter pilots who flew Bf109s during WWII, creating a sought after collector's edition. They include famous Aces Feldwebel HEINZ RADLAUER (15 victories) and Leutnant HUGO BROCH (81 victories).
CLICK HERE for full details or to order your copy!