DESERT WARRIOR - New Release by Robert Taylor
The latest release from the Military Gallery Archive Collection with some amazing Luftwaffe autographs.
19 April 2019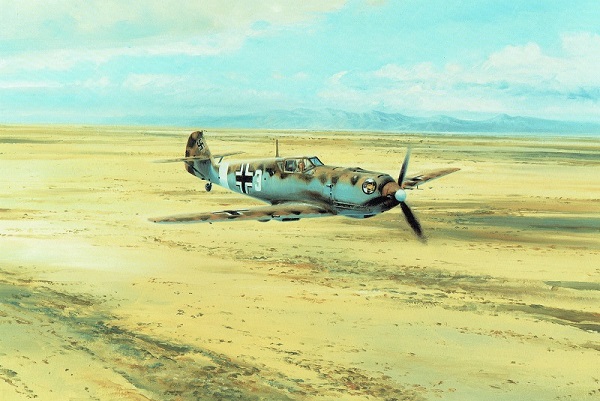 When Erwin Rommel's 'Afrika Korps' were dispatched to North Africa in early 1941, one of the most respected Luftwaffe leaders was assigned to their support; Eduard Neumann. Under his command the pilots of I./JG27 soon made their presence felt.
Robert fittingly depicts a Bf109 from I./JG27 near their base at Ain el-Gazala, north-east Libya, from which they were tasked to protect the Ju87 Stukas attacking the encircled British army in Tobruk.
As with many of Robert's early and long sold-out editions, the prints have been signed by an astonishing collection of Luftwaffe veterans which is now impossible to replicate. Included is the legendary Eduard Neumann himself, along with Aces who flew in combat with him in the Western Desert, creating a historic collector's piece that is destined to become an instant classic.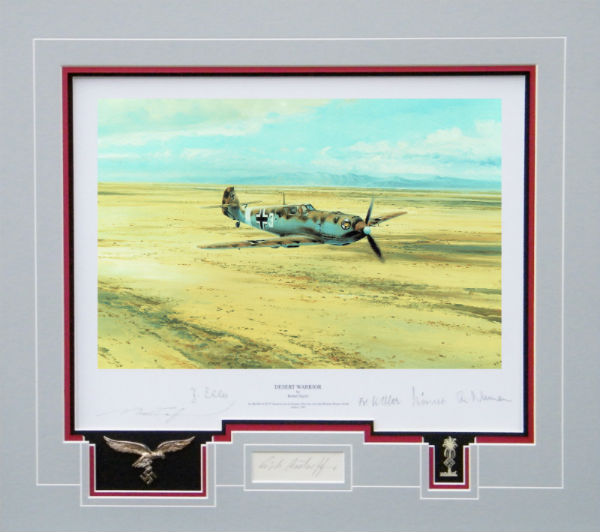 Given the popularity of Robert's Archive Collection and the special combination of signatures, we anticipate this will be very popular. The matted Collector's Edition and Remaques are likely to sell out first so CONTACT US for more details or to secure your copy.
We look forward to hearing from you.