Danger in the Dark...
Flying through the night...
22 January 2021
Even as the Reich slowly crumbled towards the end of WWII, the intensity of the fight never diminished.
In the skies over Germany the raids by Allied heavy bombers continued unabated – the Americans by day, the RAF at night. These powerful images depict the typical perils endured by RAF bomber crews during these testing night time raids:
by Robert Taylor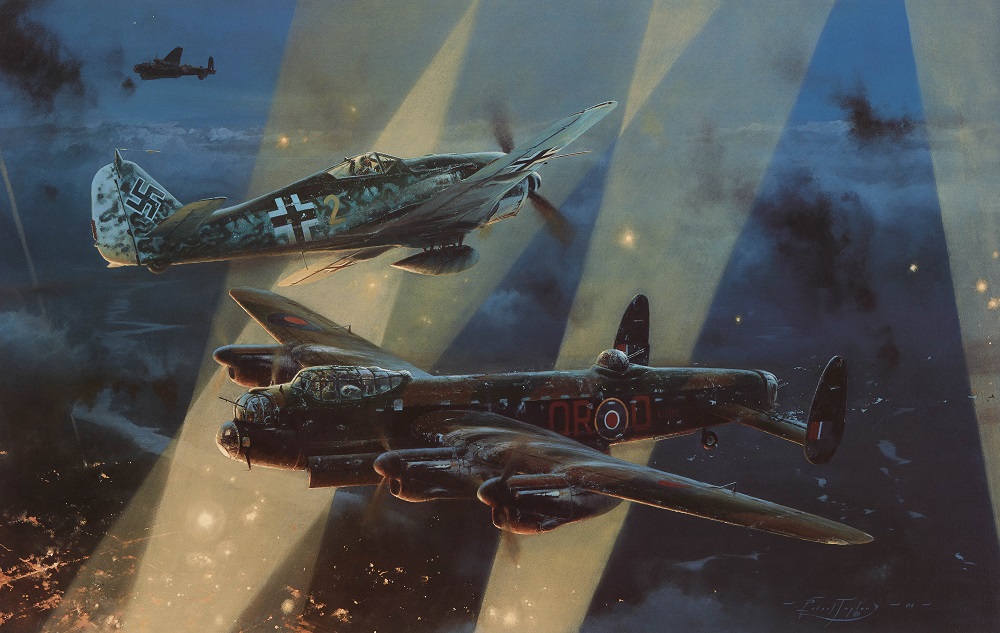 A Lancaster of 61 Sqn, piloted by Flt. Lt. Bill Reid, comes under attack from a German Fw190 en-route to Dusseldorf on the night of 3rd November 1943. Already injured in a previous attack, Reid was again wounded but pressed on for another 50 minutes to bomb the target, then fly his badly damaged aircraft on the long journey home.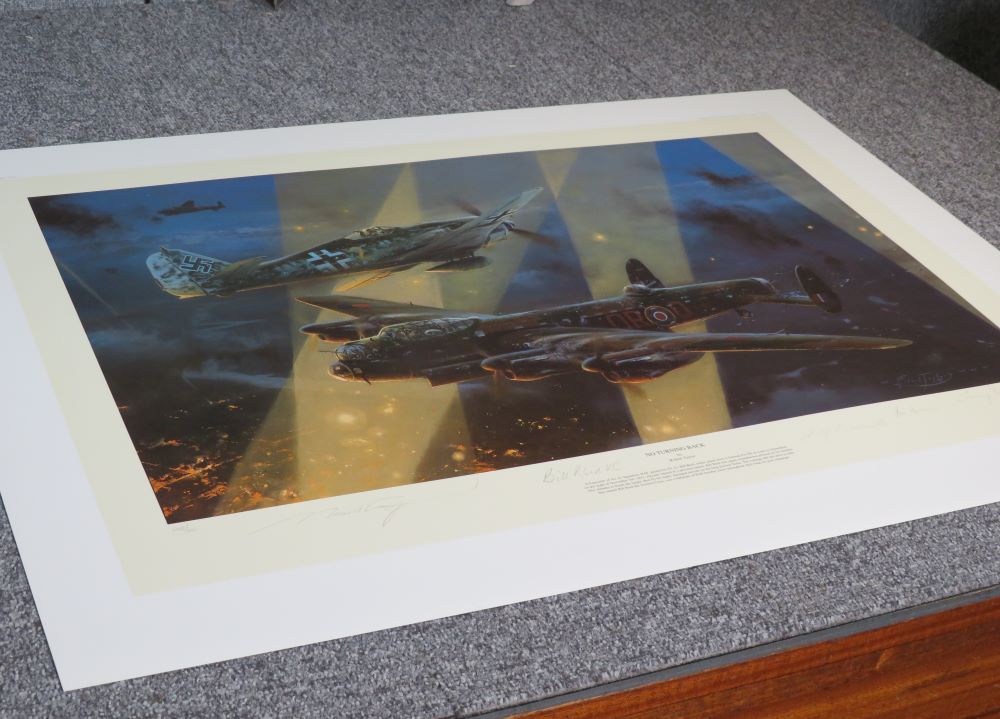 This courage and devotion to duty that earned Bill Reid the Victoria Cross was a hallmark of RAF bomber crews throughout their long six year campaign.
In tribute to these brave men, Robert's memorable print is signed by the famous VC recipient depicted, along with well-known bomber command veterans, including:
Flt Lt BILL REID VC (pictured with Colin in 1999 )
Air Cdre WILF BURNETT DSO, OBE, DFC, AFC
Air Mshl Sir IVOR BROOM KCB CBE DSO DFC AFC
Three and eleven signature prints are available.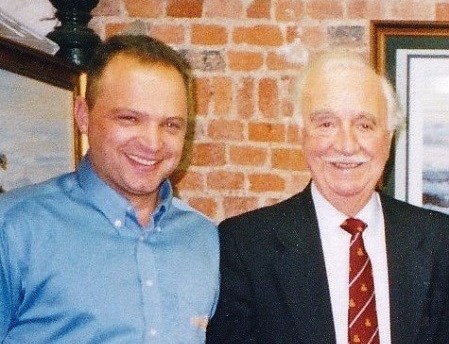 Prices from: £210
CLICK HERE TO FIND OUT MORE!
by Nicolas Trudgian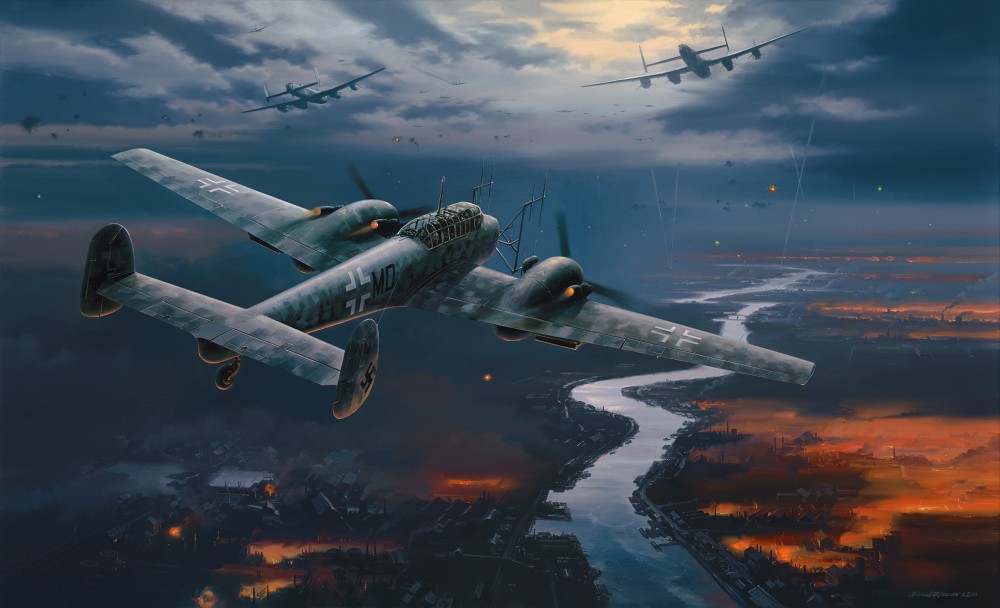 The Luftwaffe's night-fighting campaign began in July 1940 when an RAF Whitley fell to the guns of an Me110 of the new, dedicated night-fighting unit NJG1. They remained one of the most feared units for the remainder of the war.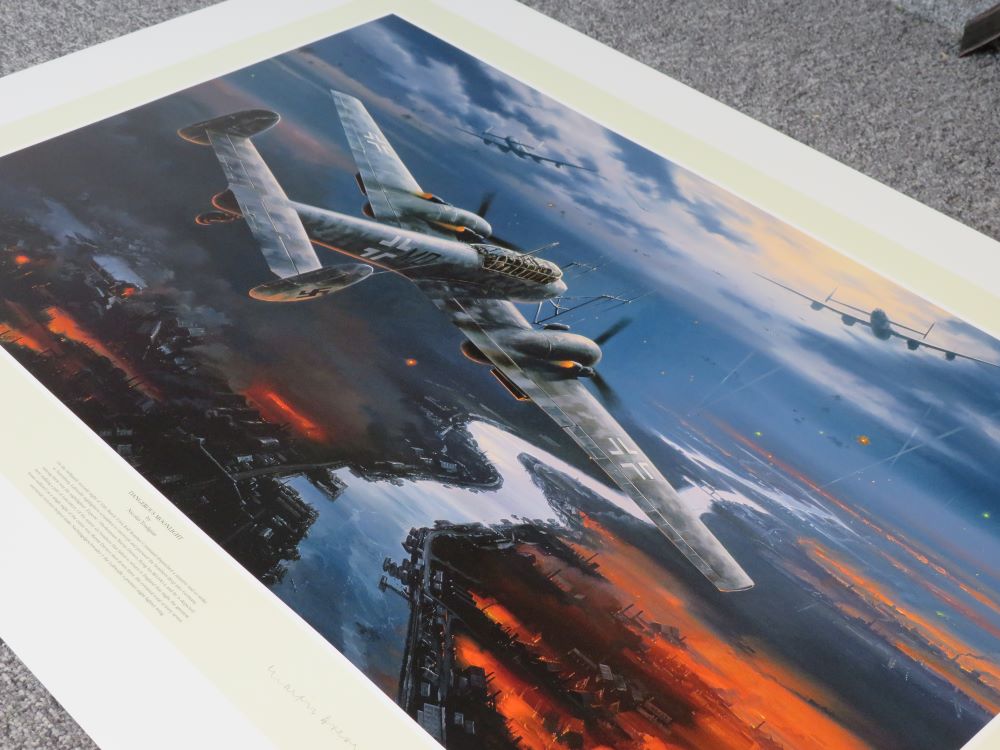 One well-known 'Experte' pilot from this unit was Martin Drewes who took command of III/NJG 1 in March 1944 and finished the war with 43 or his 52 victories scored at night. It is his aircraft that is depicted in this atmospheric piece and it's of great historical importance that he's also signed the print along with another Knight's Cross recipient:
Major MARTIN DREWES KC with Oak Leaves
Fahnenjunker-Feldwebel ANTON HEINEMANN KC
Martin Drewes Edition: £120
More info HERE!
by Robert Taylor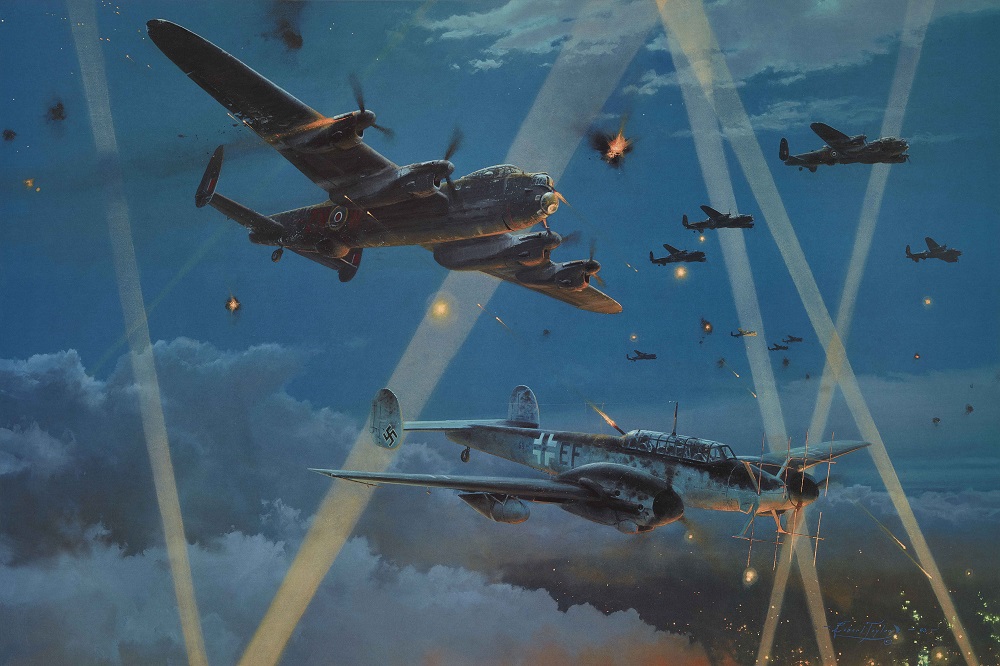 As the scale of nightly conflict developed, detection and navigation aids - primitive by today's standards - were at the cutting edge of World War II aviation technology. These can clearly be seen in Robert's detailed piece as Major Heinz-Wolfgang Schnaufer, Kommandeur of IV./ NJG1, flies his Me110 in a courageous pass at 106 Squadron Lancasters.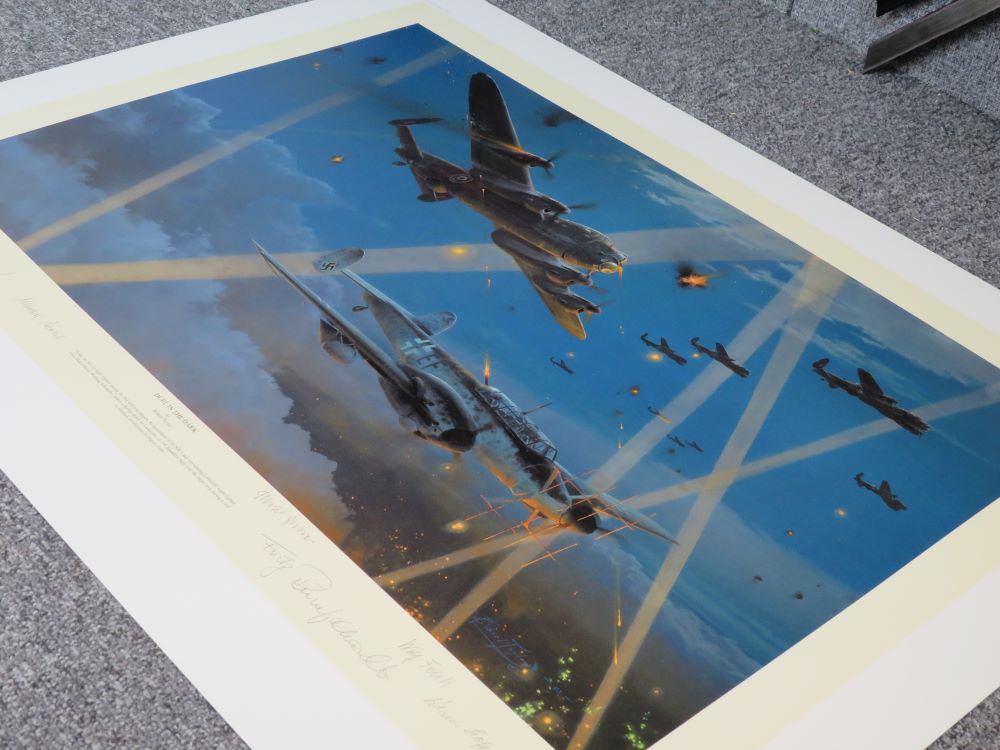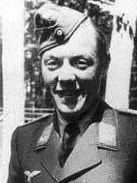 With FIVE and SIX signature prints available, this is a 'must have' for collectors and features original autographs of some of the Luftwaffe's best-known night-fighters:
Major GUNTHER BAHR
Major PAUL ZORNER KC with Oak Leaves
Major WERNER HOFFMAN KC
Oberst WOLFGANG FALCK KC
Leutnant FRITZ RUMPELHARDT KC
Hauptmann PETER SPODEN (pictured)
Prices from: £210
by Anthony Saunders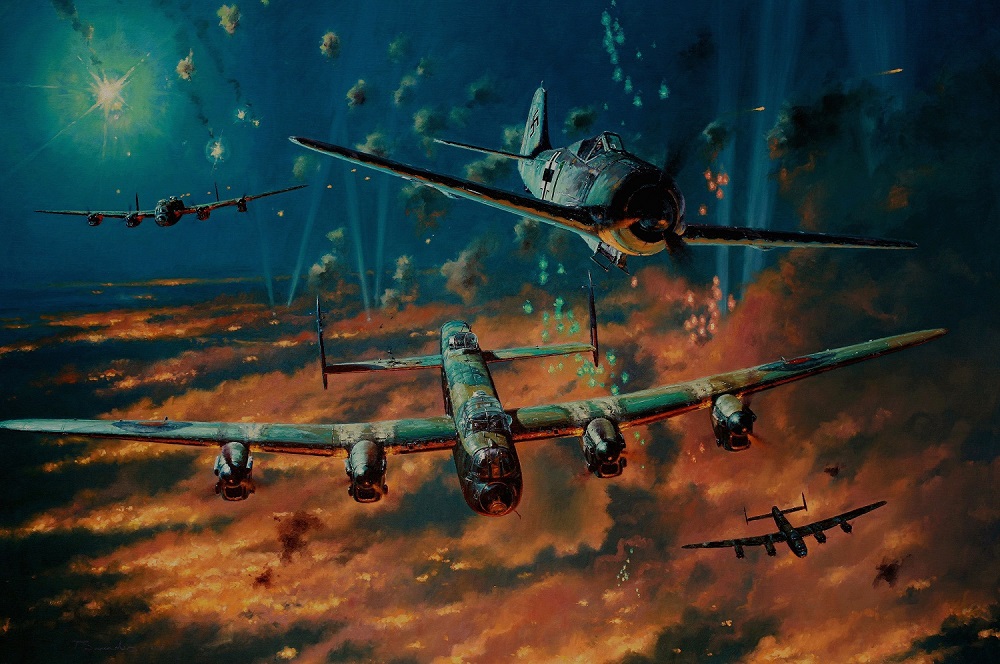 On the night of 23/24 August 1943, a lone Fw190 of the Luftwaffe's crack unit JG300 'Wilde Sau', defiantly engages a force of RAF Lancasters in the heavily defended, flak-torn skies over Berlin. With the heavy bombers illuminated by bursting flak and the fires of the burning city below, the Luftwaffe pilot engages his target, just one of over 700 RAF long-range bombers thrown into the assault that night.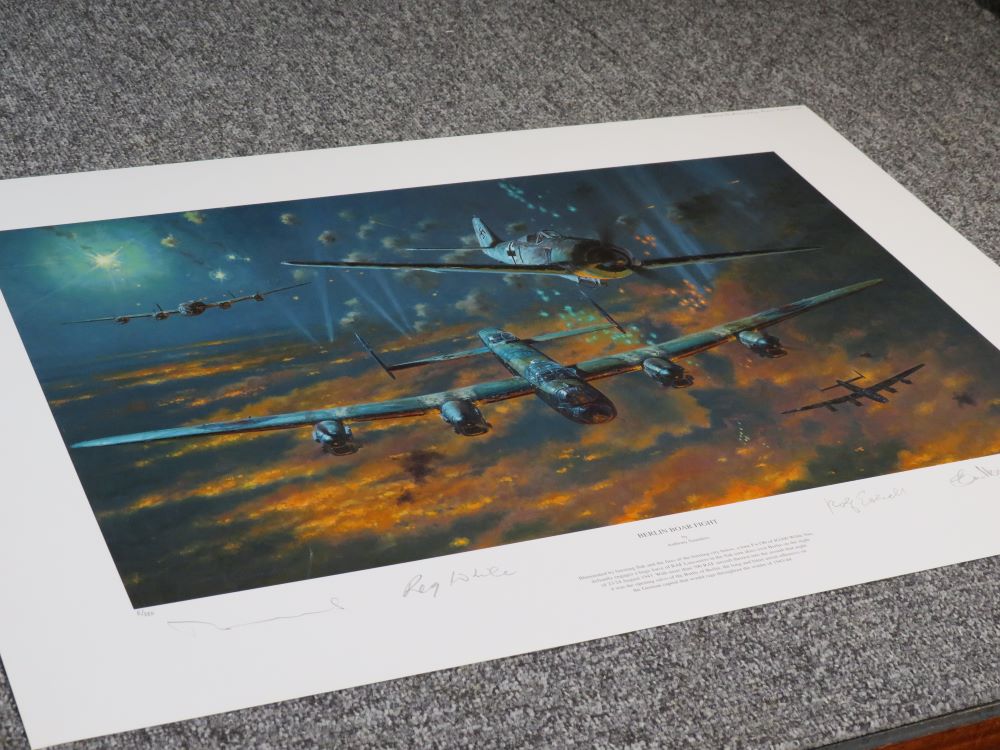 With the heavy bombers illuminated by bursting flak and the fires of the burning city below, the Luftwaffe pilot engages his target, just one of over 700 RAF long-range bombers thrown into the assault that night.
It was the opening salvo to the Battle of Berlin, the long and bitter aerial offensive against Hitler's seat of power that would rage throughout the winter to follow.
Adding great authenticity, this powerful print has been personally signed by two RAF Bomber Command veterans who flew Lancasters on these perilous missions Germany along with one of the Luftwaffe's most respected night fighter Aces:
Warrant Officer REG WHITE
Flight Lieutenant ERIC HOOKINGS
Oberleutnant ROLF EBHARDT
Prices from: £95
Find out more HERE!
by Robert Taylor
When Luftwaffe bombers first appeared in force in the night skies over London in September 1940 they heralded the beginning of The Blitz - the most sustained period of concentrated bombing aimed at British cities during WWII. Robert's evocative piece brings to life the frightening scenario of the Luftwaffe's night bombing campaign.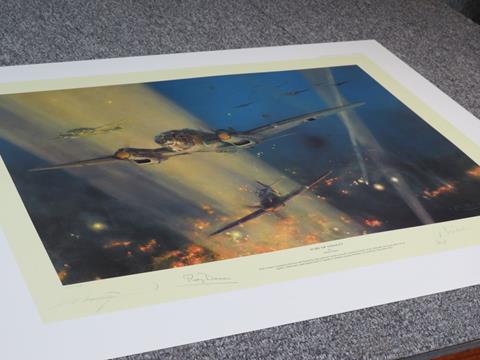 It is December 1941, and London is once again under concentrated attack. With fires raging below, an armada of German bombers sweep across the city. Shimmering in the glow of destruction, a lone Hurricane night-fighter from 85 Sqn engages Heinkel 111s of KG55 in a desperate attempt to break up the formations.
Adding great historical authenticity, this well-known piece has been personally hand-signed in pencil by four Luftwaffe Heinkel pilots who flew with KG55 during WWII along with an RAF Hurricane night-fighter pilot:
Oberleutnant JOACHIM BERKING
Unteroffizier Fahnenjunker WALTER BOGDAN
Oberleutnant KARL-HORST MEYER ZUM FELDE
Oberleutnant HEINRICH SUDEL KC
Flight Lieutenant ROY DAINES DFM*
Prices from: £210
Find out more by clicking HERE!
--------------------------
Mail Order Framing & Worldwide Shipping Available