617 SQN & BOMBER COMMAND SIGNING EVENT, DUXFORD AIR FESTIVAL – 27th & 28th MAY
We'll be exhibiting some of our finest pieces AND will be joined by some amazing WWII veterans to meet enthusiasts and sign autographs for collectors.
27 May 2017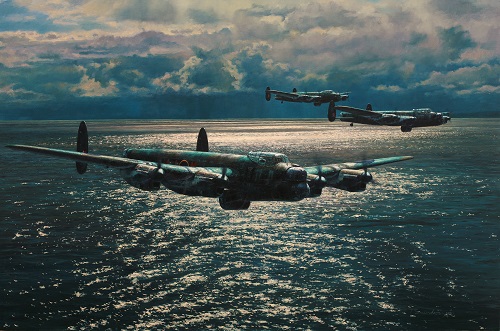 Our guests include:
Saturday
Flight Lieutenant SYDNEY GRIMES - completed a full tour as a Wireless Operator on Lancasters with 106 Sqn before joining 617 Sqn for a second tour. His first mission was attacking the German battleship Tirpitz, before returning a month later on the mission that sank it. He finished the war having completed a total of 43 Ops'.
Squadron Leader BENNY GOODMAN Ld'H - flew Lancasters with 617 Sqn where he completed a full tour of 30 Ops' including missions over Germany, Holland and France as well as taking part in all of the raids against the German Battleship Tirpitz.
Doctor MARY STOPES-ROE - the daughter of Sir Barnes Wallis, who as a child helped inspire her father to invent Upkeep - the 'Bouncing Bomb' - while skipping stones across water as was famously portrayed in the 1955 film 'The Dam Busters'.
Flight Sergeant LEN MANNING Ld'H - served from RAF East Kirkby as a Rear Gunner on Lancasters with 57 Sqn. On his 3rd operation on the night of 18/19th July 1944 his aircraft was shot down and after baling out he was hidden by French civilians before returning to Britain injured.
Warrant Officer REG PAYNE - completing training as a WOp/AG he joined 50 Sqn on Lancasters and his pilot was future MRAF, Sir Michael Beetham. With this crew he completed over 30 Ops' including 10 to Berlin.
Sunday
Leading Aircraftman BERNARD MABEY - joined the RAF in 1943 and trained as Ground Crew working on Halifaxes with 640 Sqn at RAF Leconfield. In 1945 he transferred to RAF Waddington as part of 'Tiger Force' working on Lancasters with both 617 and 9 Sqns.
Warrant Officer REX STATHAM - served as a Flight Engineer on Halifaxes with 158 Sqn based at RAF Lissett before transferring to 10 Sqn, again on Halifaxes. He completed a full tour of 30 Ops' before the endof the war.
Warrant Officer FRANK ELLIOTT - as a WOp/AG he completed 38 Ops' with 192 Sqn, part of 100 Group, on Wellingtons and Halifaxes. In addition to taking the front gunner role he was trained in jamming the German radar defences.
Warrant Officer ROBERT DENWOOD - after training as a WOp/AG, Bob was posted to 547 Sqn and later 224 Sqn, with Coastal Command flying on B-24 Liberators. He spent 1944 and 1945 flying on U-Boat hunting operations. After the War, as a French speaker, Bob was involved in the negotiations to help bring B-17 "Sally B" to Duxford, and has flown this aircraft on many occasions.
Special Guest signer:
Staff Sergeant DOUGLAS WARD - served as a Ball Turret Gunner on B-17s with the 301st Bomb Group, 15th Air Force based in Italy bombing targets in Europe from France in the west to Poland in the north-east and Greece in the east. He then moved to the 305th Bomb Group, 8th Air Force flying from Chelveston, Northants on missions over Germany, flying 37 missions in total.
This is a perfect opportunity to add even more signatures to the new releases THE DAMUSTERS and COUP DE GRÂCE! Purchases over £40 can be signed free of charge with all other items subject to a signing fee.
THE GALLERY - will be open by appointment only from 24th – 31st May as we prepare for Duxford. As always, our online store and phone lines remain open and we look forward to hearing from you.