The story of Franz Stigler and Charlie Brown
A moving story of the mercy shown by a Luftwaffe Ace towards an American B-17 crew has now become legendary...
8 March 2023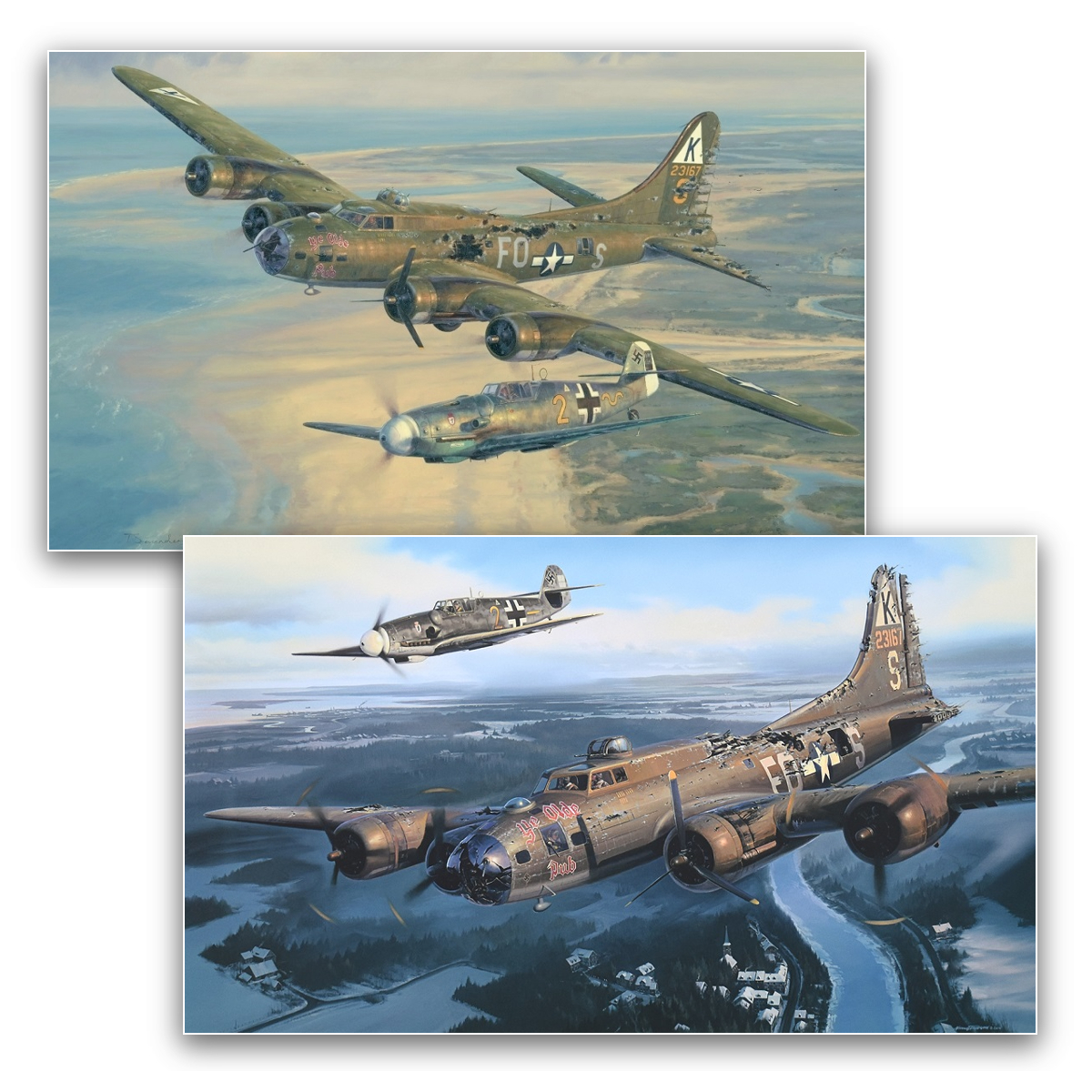 20 December 1943 – rookie pilot Charlie Brown and the crew of B-17 Ye Olde Pub manage to bomb the Focke-Wolf factory in Bremen despite severe damage over target. Turning for home, the damage was starting to show and the straggler now became a magnet for encircling Luftwaffe fighters, who pulverised the already battered Fortress. Somehow, Brown managed to keep her in the air – just.
It wasn't long before Franz Stigler's Bf109 was spotted approaching at speed; all on board believed their days were now finally numbered. But the Luftwaffe Ace had other ideas. As he circled the wrecked B-17 he could clearly see the dead tail-gunner and other badly wounded men obviously unable to bail out. Compassion took the better part of valour. Instead of shooting down the Fortress, Stigler escorted the bomber over the North Sea coast on a heading for England.
Stigler never reported the incident. Had he done so he would in all probability have been shot as a traitor yet many years later, through serendipity and good fortune, both men would meet again and become firm friends.
We're proud to feature two moving pieces that are IN STOCK and detail this famous story...
by Anthony Saunders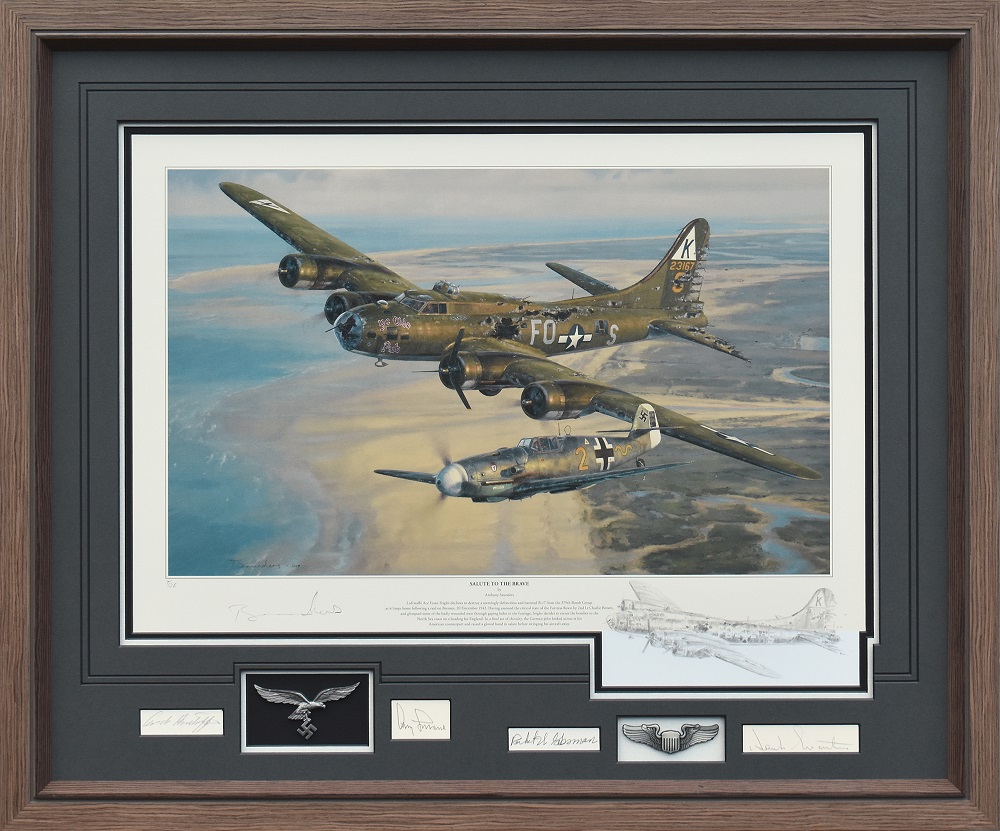 This unique copy has been enhanced with an original pencil remarque in the lower border and expertly framed to include four original autographs - two highly-regarded Luftwaffe Aces plus two famous B-17 aircrew. Click HERE for the full list or to find out more!
--------------------
by Nicolas Trudgian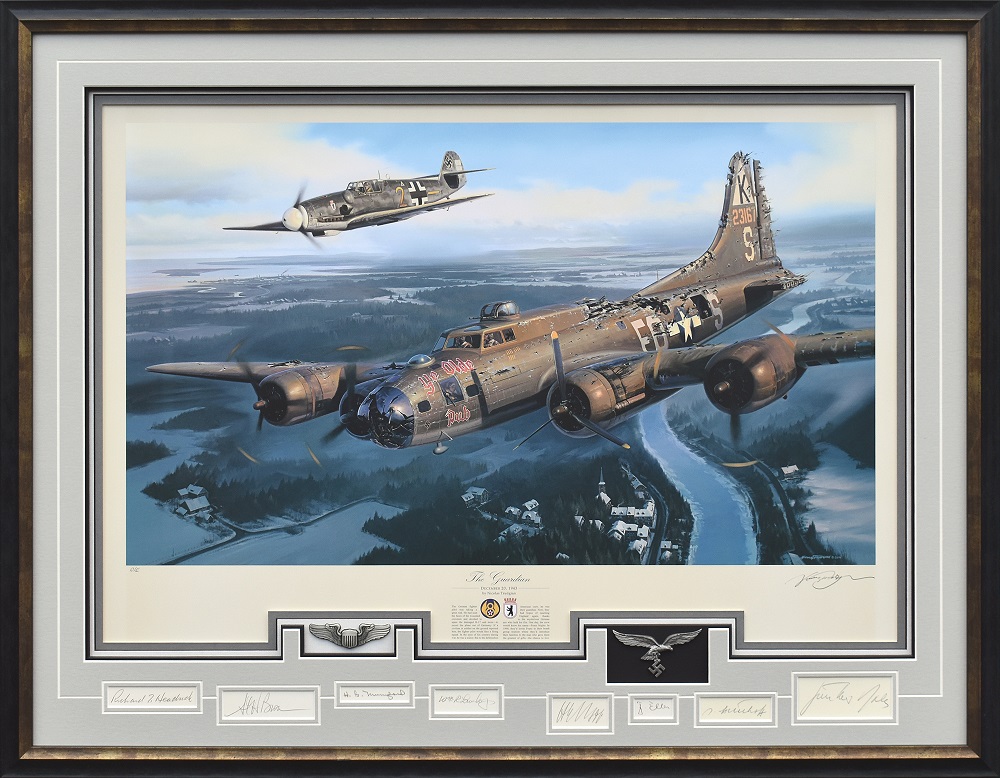 Our expert framing team have 'worked their magic' on not one, but two copies of Nick's popular piece!