The illustrious Titanic
Leaving Southampton on 10 April 1912 heading for New York City, she would sadly never complete her maiden voyage and her fate was sealed just a few days later on 15 April. Yet the RMS Titanic is one of the most famous ships that ever sailed and her tragic story continues to fascinate generation after generation. We're therefore proud to feature the following pieces that serve as a lasting tribute.
29 September 2022
by Robert Taylor with ORIGINAL artwork by Richard Taylor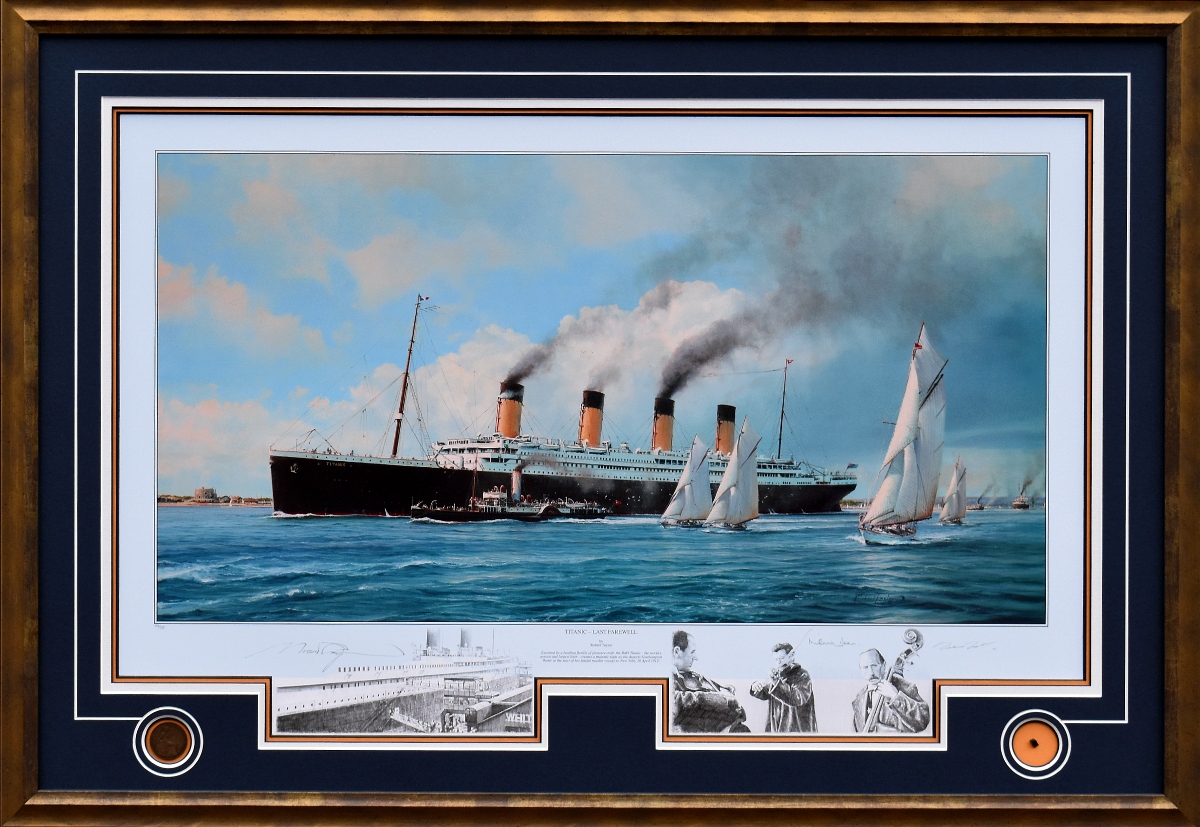 The bands played, the streamers flew and the crowds cheered; their loud 'hurrahs' filling the air as the world's largest liner slipped gently away from the White Star berth at Southampton. The fateful maiden voyage to New York had begun. In this magical moment the Titanic presented a majestic sight as she sailed into the Solent accompanied by a flotilla of all shapes and sizes.
It's easy to see why this edition continues to prove extremely popular and we're delighted to have ONE copy in stock which has been signed for posterity by the last Titanic survivor, MILLVINA DEAN. Making it even more special, the print has been decorated with two wonderful ORIGINAL pencil Remarques in the lower border, completed by Richard Taylor.
Find out more HERE!
--------------------------------------------------------
Matted Limited Edition by Robert Taylor
This evocative study brings to life the Titanic once again as she steams majestically down the Solent on 10 April at the outset of her maiden voyage.
This memorable piece is signed by artist and mounted to full conservation standards to include the original signature of MILLVINA DEAN (2 Feb 1912 – 31 May 2009). Multiple mount colours are available.
More info available HERE!
--------------------------------------------------------
Part Exchange, Payment Plans and Worldwide Shipping is available - CONTACT US today to find out more!