RAF TORNADO SIGNING EVENT - 31st March
To help mark the retirement of this famous fighter jet, we're delighted to be hosting an exciting event at the UK Gallery where we'll be joined by RAF veterans who flew the Tornado.
31 March 2019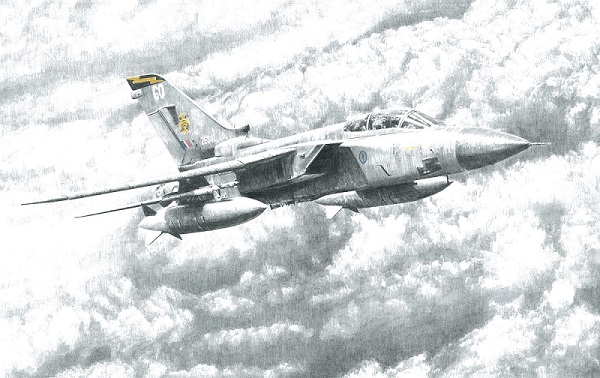 Our special guests include:
Air Vice-Marshal BRIAN BATES CBE - an Air Defence Navigator and Qualified Weapons Instructor, with over 3000 flying hours on the F4 Phantom (43, 56 and 92 Sqns) and Tornado F3 (11 and 25 Sqns). Brian's flying experiences include the interception of Russian bombers during the Cold War, shadowing Argentinean aircraft in the South Atlantic and operational deployments to the Middle East. As a Group Captain he spent 6 months in command of the British forces helping the US enforce the no-fly zone over southern Iraq and, subsequently, commanded a frontline Tornado F3 station and the largest RAF deployed operating base in the second Gulf War.
Group Captain STEVE GREEN OBE FRAeS - flew operationally as a Navigator on: the Vulcan B2 (617 and IX Sqns); Phantom (43 Sqn, 23 Sqn in the Falkland Islands and 228 OCU/64(R) Sqn as an instructor); and Tornado F3 (23 and 25 Sqns). He spent 2 years with the USAF at HQ8AF, Louisiana, and commanded the Operations Wing at RAF Akrotiri, Cyprus, during the Second Gulf War. Latterly he was tasked with forming and commanding the National Air and Space Operations Centre at RAF High Wycombe.
Squadron Leader PETER BROMBLEY - served as a Pilot on the Tornado F3 on 5(AC) Sqn and 43(F) Sqn before a tour at RAF Valley, teaching on 74 and 19 Sqn Tac Weapons Units. He returned to the F3 on 43(F) Sqn and the Operational Conversion Unit, 56(R) Sqn as OC StanEval. He flew operational missions over Bosnia, Iraq and the Falkland Islands, including commanding 1435 Flight. He currently serves as a military accident investigator.
Wing Commander MICHAEL RUSSELL OBE MBA - Mike planned and commanded the Release to Service trials of the Air Launched Anti Radar Missile (ALARM) on Tornado GR1 conducted by No 32 Joint Trials Unit at the US Naval Weapons Centre at China Lake, California in 1990/91. ALARM was successfully employed by the Tornado force in Gulf War 1 as its prime Suppression of Enemy Air Defences (SEAD) weapon. He then flew operationally as a Navigator on Shackletons and Nimrods on 201 Sqn becoming a Captain and subsequently Navigation Leader with 120 Sqn at Kinloss. He also served at HQ Strike Command, RAF Staff College, Air HQ Episkopi, Cyprus and with the MoD Procurement Executive.
Group Captain IAN TRAVERS SMITH DSO - after qualifying as a Pilot, Ian's operational tours included flying Hunters 9s with 8 Sqn, the Phantom GR1 with 17, 54 and 228 OCU and an exchange with the USAF flying various types of Phantom. He later flew two full tours on Tornado GR1s, first with 15 Sqn then as OC of 16 Sqn seeing action in Gulf War 1 from Tabuk air base in Saudi Arabia.
Squadron Leader DAVID THOMAS - as a Navigator David flew tours on the Tornado F3 with 5 and 29 Sqns before later serving as an Instructor on 229 OCU and 56 Sqn. His operations included time in the Gulf before retiring from the RAF after 19 years of service.
Air Commodore ALAN GILLESPIE CBE - a Tornado F3 Navigator and Qualified Weapons Instructor, Alan served on 111(F) Sqn, 25(F) Sqn and 56(R) Sqn completing operational tours in the Balkans and Iraq. He has commanded 23 Sqn (AWACS), 903 Expeditionary Air Wing (Bastion Airfield, Afghanistan), RAF Waddington and the Battlespace Management Force and was the UK Air Component Commander in Qatar throughout 2014.
Flight Lieutenant CHRIS STRADLING- he first flew the Tornado GR1 in October 1987 and completed two flying tours with 17(F) Sqn at RAF Bruggen which included participation in Operation GRANBY. He then served for 21 years at RAF Lossiemouth which included 11 years as an instructor on XV(R) Sqn and tours with 14 and 617 Sqs. Chris flew in the 1999 Tornado GR1 Display and the 2012 Tornado GR4 Role Demonstration before spending two years at RAF Marham with 12 and 31 Sqns. He has flown more than 320 Operational sorties over Iraq, Syria and Afghanistan and is the only person to achieve over 6000 flying hours on Tornado GR1 and GR4.
Junior Technician KAREN MALPUS - joining the RAF in 1989 as an Armourer, Karen served as ground crew at RAF Lossiemouth with 8 Sqn on Shackletons and 12 Sqn on Buccaneers. She then served at RAF Akrotiri in Cyprus in the explosive storage area before returning to the UK to join 25(F) Sqn on Tornados at RAF Leeming where her duties included servicing, maintenance and arming the aircraft. Her final posting was at RAF Honington before leaving the RAF in 2005 having participated in both Gulf conflicts, former Yugoslavia and Operation Fresco.
Corporal PHILIP RICHARDSON - served as Groundcrew at RAF Lossiemouth for TASF (Tornado Servicing Flight), working on Tornado GR1 and GR4. He was involved with modifying systems and carrying out servicing and testing the on-board nuclear weapon systems. Philip later worked on Tornado F3 at RAF Leuchars with 111 Sqn, again on servicing and maintenance. He took part in Operation Red Flag and was also active during Operation Resonate South, the British contribution to Allied efforts of enforcing Iraqi no-fly zones.
Entry to the event is completely free but for safety reasons by ticket only, so to keep the event comfortable for veterans and enthusiasts we ask that you please RESERVE YOUR TICKET IN ADVANCE.
Our guests are happy to sign autographs for collectors and items purchased at the event over £40 can be signed free of charge. Bookings are now being taken so please contact us to secure your place.
An ideal opportunity to have the new folio prints TORNADO INTERCEPTOR and TORNADO FORCE signed by our special guests!

CLICK HERE for more info.