RAF BOMBER COMMAND SIGNING EVENT – 23rd APRIL
We are delighted to be hosting some amazing WWII Bomber Command veterans at the UK Gallery to meet enthusiasts and sign items for collectors.
23 April 2017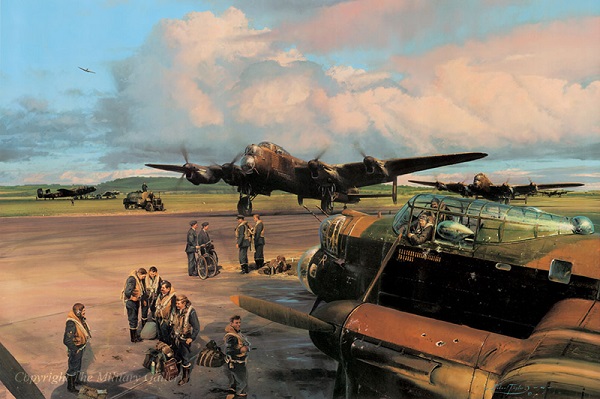 Our guests include:
Squadron Leader DOUGLAS JOSS MBE - he was posted to 626 Sqn at Wickenby as a Rear Gunner on Lancasters where he completed 30 Ops' during 1944. After the war in an attempt to keep Bomber Command veterans in touch with each other he was the founder member of the Wickenby Register.
Flying Officer TOM SAYER DFM - served as a Pilot on Whitleys with 10 OTU from St Eval and later 102 Sqn at Pocklington flying Halifaxes. He completed 35 Ops' before becoming an Instructor on with 81 OTU and trained crews to drop agents and SOE agents behind enemy lines.
Warrant Officer HARRY HUGHES - having lost his brother, killed in action with Bomber Command, Harry joined 98 Sqn late 1943 based at Dunsfold. He completed 23 Ops' over Europe on B-25 Mitchells and twice ditched in the Channel, hence is a member of the "Goldfish Club".
Warrant Officer ROY BRIGGS - posted to 576 Sqn at RAF Fiskerton he served as a Wireless Operator on Lancasters. Flying 10 Ops', his missions included raids on Plauen and Bremen before taking part in Operation Manna. As the war ended he transferred to 156 Pathfinder Sqn.
Entry to our Gallery events is FREE but for safety reasons it is important to RESERVE YOUR TICKET IN ADVANCE. Unfortunately, on event days, we can't allow entry to anyone who hasn't reserved a place. Even if you're not 100% sure that you can make it, please book your place in advance and if your plans change, just let us know.
Bookings are now being taken so please contact us to reserve your place!