GULF WAR & BUCCANEER SIGNING EVENT - 23rd February
Join us as we continue our series of Post-War events in 2020...
23 February 2020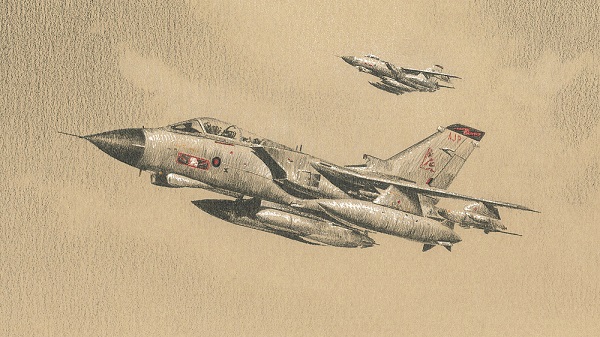 Our Special Guests include:
Junior Technician KAREN MALPUS - joining the RAF in 1989 as an Armourer, Karen served as ground crew at RAF Lossiemouth with 8 Sqn on Shackletons and 12 Sqn on Buccaneers. She then served at RAF Akrotiri in Cyprus in the explosive storage area before returning to the UK to join 25(F) Sqn on Tornados at RAF Leeming where her duties included servicing, maintenance and arming the aircraft. Her final posting was at RAF Honington before leaving the RAF in 2005 having participated in both Gulf conflicts, former Yugoslavia and Operation Fresco.
Corporal PAUL HARBOUR - joined the RAF in 1978 as an Engine Technician. After serving at RAF Coningsby on Phantom Spey engine maintenance, he was posted to RAF Wyton as Groundcrew with 100 Sqn on Canberras. He was then posted to RAF Marham serving as Groundcrew on 617 Sqn on the Tornado GR1. His final posting was at RAF Coningsby on 5(F) Sqn as Groundcrew on the Tornado F2 & F3.Paul then worked for the Royal Saudi Air Force as a British Aerospace Contractor at King Abdulaziz Airbase as Groundcrew on the Tornado GR1 on 7th Sqn and then during Operation Granby, the First Gulf War conflict as Groundcrew on the Tornado F3 on 29Sqn.
Wing Commander JOHN CRAIG MBE FRIN - joining the the RAF in 1973 as a Navigator, then after a brief period of 'holding' with XV sqn at RAF Laarbruch , John was then appointed to XV Sqn (Buccaneers) at RAF Laarbruch. He then spent time as as Staff Naviagor with 237 OCU I (at RAF Honington and then Lossiemouth) and shortly after spent time with 1 Sqn (RAAF) then 6 Sqn on Exchange at RAAF Amberley (near Brisbane) with the RAAF flying F111s. On return from Australia he was transferred to Tornados (GR1s) and was posted again to XV Sqn then to 14 Sqn at RAF Bruggen where he was Deputy Sqn Cdr and Exec.
Master Aircrew TERRY RUMBLE - joining the RAF in 1971 as an air radar fitter, Terry began his flying career with 120 Sqn flying Nimrod Mk1's and Mk2 Nimrod Mk2's with 201 Sqn. After a brief period with 202 Sqn flying Sea King SAR helicopters, he was seconded to Sqn 3 of the NATO AEW Force in Germany, for the period of Gulf War 1, flying NATO E-3A aircraft from Antalya and Konya FOB's in Turkey. Shortly after his return he was one of the first crews to fly the RAF E-3D with 8 Sqn. During this time he spent almost 10 years flying Ops covering the Bosnian and Kosova wars. He was later posted to 23 Sqn, again flying the E3-D where he served during Gulf War 2 and Afghanistan conflicts before leaving the RAF in 2005.
JOHN NEWTON C.Eng MRAeS - John worked for 40 years at BAE Systems Brough in engineering on Phantoms, Buccaneers and latterly Hawks. Involvement in the Buccaneer was initially in Aerodynamics and then from 1985 to 1990 in the Flight Test area managing the Sea Eagle and then Buccaneer Update (ASR1012) trials from both Scampton and Woodford prior to the Aircraft's involvement in the Gulf War.
Squadron Leader CHRIS BULTEEL - joined the RAF in 1985 and on completion of flying training, was posted to the Tornado F3 at RAF Leeming. He was deployed to RSAF Dhahran for Operation Desert Shield and Desert Storm with XI(F)Sqn. After a posting to the Central Flying School (CFS), at RAF Scampton and subsequently RAF Topcliffe he was posted to 25(F) Sqn for his 3rd F3 tour during which he was deployed on numerous occasions to the Gulf. He later completed the USAF Predator Flying Training Unit and became the RAFs first MQ9 Reaper pilot serving with the USAF in Standards and Evaluation. He then served as XO 39 Sqn and OC STANEVAL prior to joining 92 Sqn. In 2018, Sqn Ldr Bulteel became the 2 FTS Air Safety Manager at RAF Syerston.
Air Commodore GRAHAM PITCHFORK MBE - Graham was in the RAF for 36 years as a navigator serving in Germany, the Far East and in Aden. His service included an exchange appointment to the Fleet Air Arm on Buccaneers when he spent a year operating from the aircraft carrier HMS Eagle. He commanded No 208 Buccaneer Squadron and was the station commander of RAF Finningley and Commandant of Biggin Hill. He served as the Director of Operational Intelligence in the Ministry of Defence before retiring as an Air Commodore in 1994.
----------------------------------------------------------------------------------------------------------------
Entry is completely FREE, all we ask is that you RESERVE YOUR TICKET in advance to help us manage numbers and make it relaxed and comfortable for everyone.
Our guests are happy to sign autographs for collectors and items purchased at the event over £60 can be signed free of charge.
Bookings are now being taken so please contact us to secure your place.
----------------------------------------------------------------------------------------------------------------