MOSQUITO AIRCREW & BOMBER COMMAND SIGNING EVENT – 23rd JULY
For this exciting event we'll be joined by veterans who flew the versatile 'Wooden Wonder' during WWII along with Bomber Command aircrew.
23 July 2017
Our special guests include:
Flying Officer JACK YOUENS – after completing Pilot training, he joined 21 Squadron flying Mosquitos based at Gravesend and later Thorney Island. Part of 140 Wing, 2nd Tactical Air Force, he took part in daylight precision raids and night time attacks on German targets. His squadron is also famous for their part in Operation Jericho, a low-level raid on Amiens Prison to free French Resistance and political prisoners.
Flight Lieutenant GEORGE PRICHARD – having joined the RAF in 1943 on a direct entry commission, he was posted from Tech Signals Radar (Air) Branch to 151 Night Fighter Squadron on Mosquitos. He supported action on D-Day and across Europe throughout the Normandy Campaign, also maintaining and diagnosing crucial radar equipment. He later moved to 'Tiger Force' (Long Range Bomber Force) to fl y against the Japanese from bases in Okinawa.
Flight Lieutenant DES CURTIS DFC – after training as a WOp/AG he was posted to 235 Sqn flying Beaufighters over the North Sea and the Norwegian coast. In April 1943 he converted to Mosquitos as a Navigator and helped form 618 Sqn for special operations against the Tirpitz. He then flew from bases in Cornwall attacking U-Boats in their pens along the French Atlantic Coast. In September 1944 he joined 248 Sqn and served with the Banff Strike Wing flying Mosquitos out of Scotland.
Warrant Officer ROY BRIGGS – posted to 576 Sqn at RAF Fiskerton he served as a Wireless Operator on Lancasters. Flying 10 Ops', his missions included raids on Plauen and Bremen before taking part in Operation Manna. As the war ended he transferred to 156 Pathfinder Sqn.
Warrant Officer HENRY WAGNER – as a Flight Engineer with 51 Sqn flying Halifaxes, Henry was shot down just before Christmas 1944 and spent the last 6 months of the war as a PoW in Stalag Luft VII.
Our guests are happy to sign items for customers and entry is FREE but STRICTLY by ticket only. We are currently taking bookings so please contact us now to reserve your place.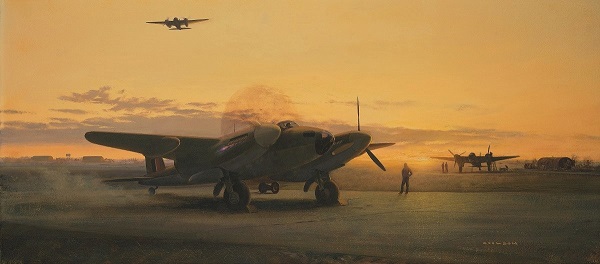 An ideal opportunity to have the new release MOSQUITOS AT DUSK additionally signed by our guests - CLICK HERE FOR DETAILS