Introducing Giclée Folio Proofs from the studio of Robert Taylor!
Several years ago, thanks to the latest high-definition digital technology, some of Robert's unique catalogue of paintings were made available as Giclée Studio Proofs, printed onto fine canvas under the direct supervision of the artist. These were quickly followed by the larger, display size Exhibition Proofs.
22 November 2022
Due to popular demand, we're now delighted to announce that several of Robert's legendary images will now be available in a new, smaller format called GICLÉE FOLIO PROOFS!
The first are some of Robert's most famous and much admired paintings:
PHANTOM STRIKE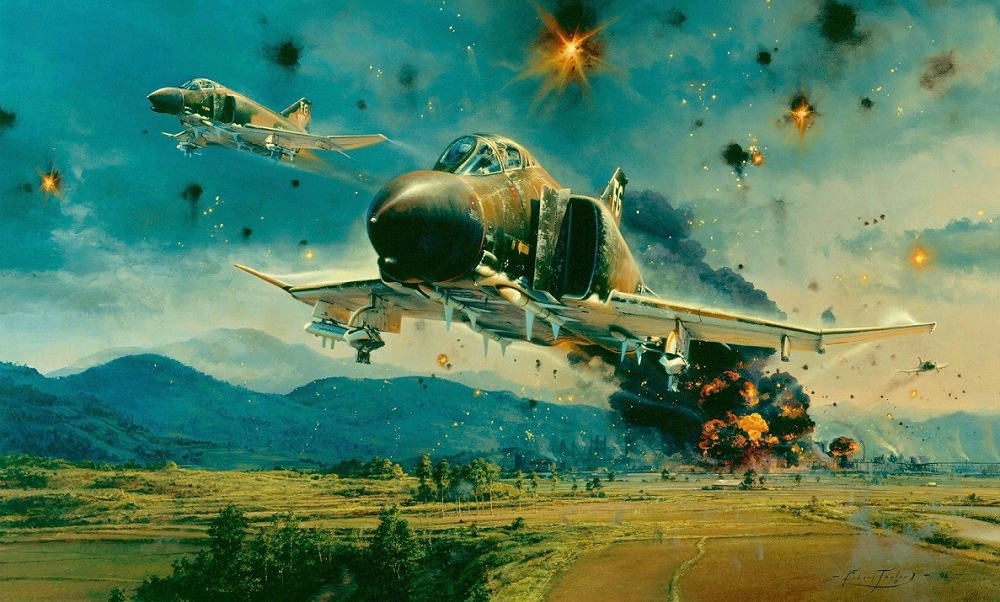 Moments after delivering their devastating attack on the steel mill at Thai Nguyen in North Vietnam, legendary fighter Ace Robin Olds leads F-4 Phantoms of the 8th Tactical Fighter Wing through the concentrated onslaught of flack as they leave their target billowing flames and smoke, 30 March 1967.
Stretched canvas size: 24" wide x 16" high
CLICK HERE to find out more!

------------
JG-52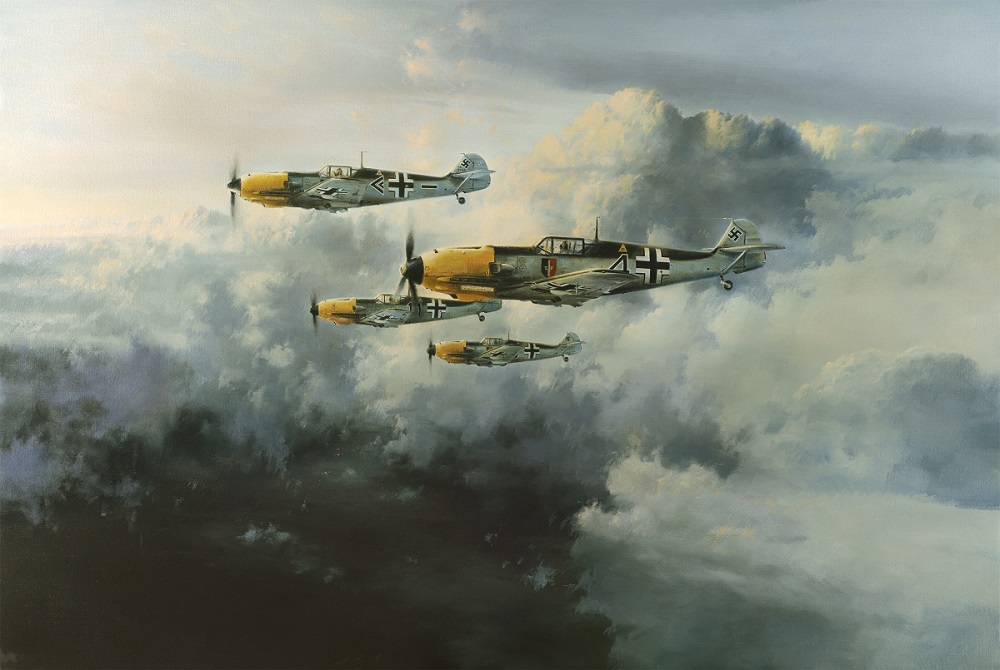 A Schwarm of Bf109s from JG-52 are about to peel away and, with the battle-cry 'Horrido!' ringing in their ears, dive to attack the flight of enemy aircraft below.The name of the unit alone brought terror into the hearts of opposition pilots and understandable so, by the end of the war they were the Luftwaffe's most successful Geschwader having claimed over 10,000 victories.
Stretched canvas size: 24" wide x 16" high
Find out more HERE!

------------
LAST FLIGHT HOME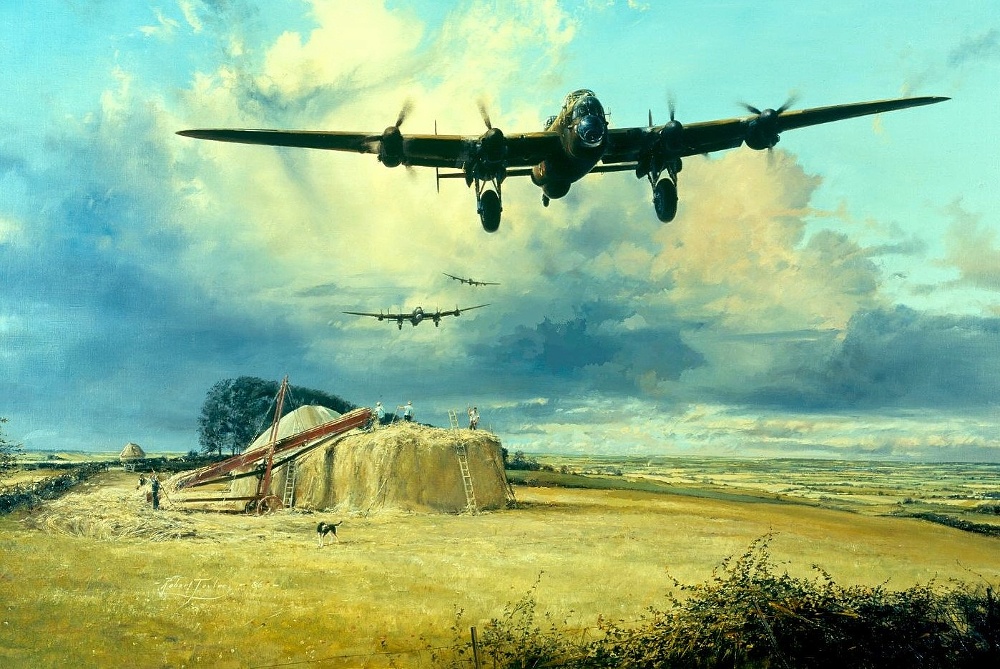 The peace and tranquillity of haymaking is momentarily disturbed by the thunderous return of a squadron of Lancasters. All eyes on the ground turn skywards as the great four-engined aircraft of the last flight home make their final approach to the neighbouring airfield after a raid over enemy territory.
Stretched canvas size: 24" wide x 16" high
Click HERE for further info!
THE CHANNEL DASH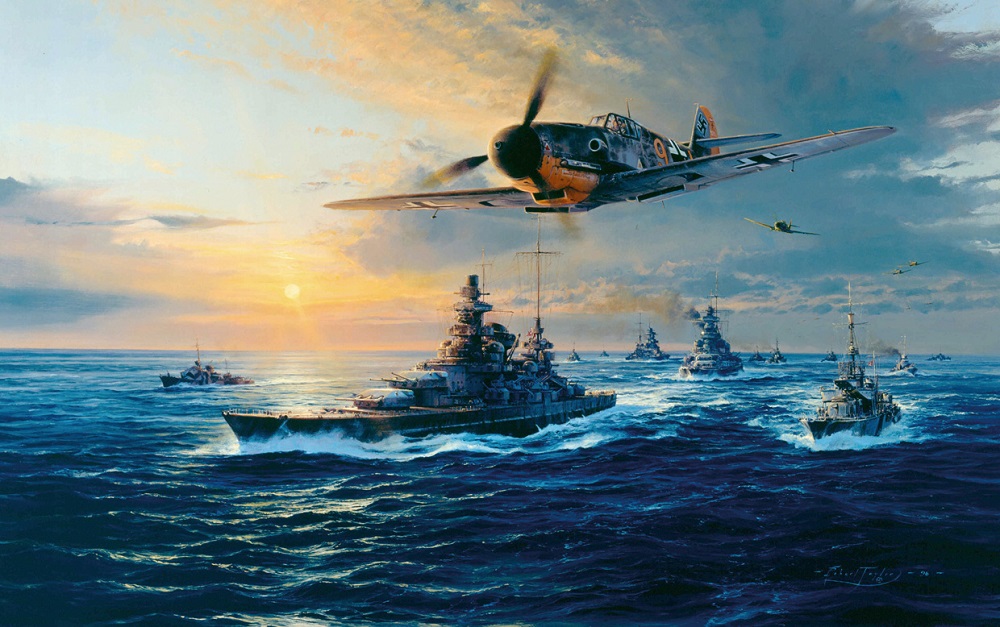 At dawn on 12 February 1942 a German battle fleet rounded the Cherbourg peninsula. Their destination was Germany. Undetected, the battlecruisers Scharnhorst and Gneisenau, together with the cruiser Prinz Eugen and supporting vessels, had escaped from the French port of Brest, and were making an audacious dash – in broad daylight and under the noses of the enemy – to the safety of the Elbe Estuary. But first they must sail through the Straits of Dover, one of the narrowest and most heavily defended straits in the world.
Stretched canvas size: 24" wide x 16" high
For more info please CLICK HERE!
--------------------