GUARDING THE LINE - New Release by Richard Taylor
The third in a series commemorating The Great War 1914 – 1918
30 September 2019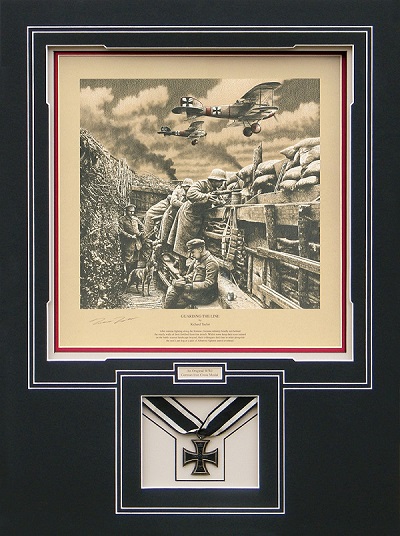 After intense fighting along the Somme, German infantry briefly rest behind the sturdy walls of their fortified front-line trench. Whilst some keep their eyes trained on the battle-scarred landscape beyond, their colleagues find time to relax alongside the unit's pet dog as a pair of Albatross fighters patrol overhead.
To honour all those who fought in the trenches during The Great War, we are proud to offer this highly restricted and exclusive portfolio.
Every copy of Guarding the Line is conservation matted to include an ORIGINAL German WWI Iron Cross Medal which has been sourced over a number of years and issues with a matching-numbered copy of the outstanding book The Great War: A Pictorial History by author Duncan Hill which is presented in its own embossed slipcase.