BOMBER COMMAND & VULCAN SIGNING EVENT - 1st March
We're delighted to be joined at the UK Gallery by veterans who served with RAF Bomber Command during WWII & Post-War Vulcan Aircrew!
1 March 2020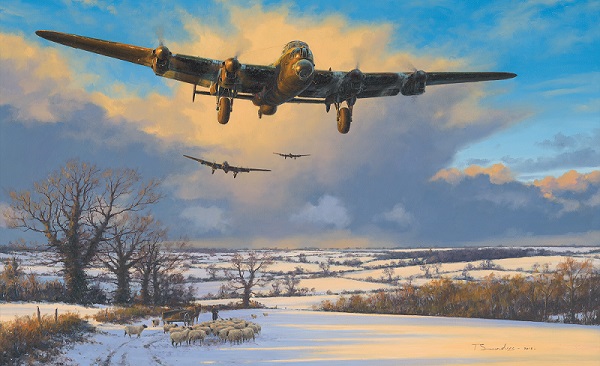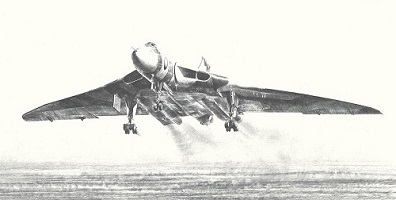 In celebration of the 60th Anniversary of Vulcan XH558's first flight, affectionately known as the 'Spirit of Great Britain' which made it's last flight in 2015.
Our Special Guests include:
Warrant Officer ROY BRIGGS - as a Wireless Operator on Lancasters with 576 Squadron based at RAF Fiskerton, he completed 10 wartime missions including raids to Plauen and Bremen before taking part in Operation Manna. As the war in Europe ended he transferred to 156 Pathfinder Sqn.
Flight Sergeant LEN MANNING Ld'H - after completing training he joined 57 Sqn based at East Kirkby and flew as a Rear Gunner on Lancasters. On only his 3rd mission on the night of 18/19th July 1944, Len's aircraft was shot down and after baling out he was hidden by French civilians before returning to Britain.
Squadron Leader BENNY GOODMAN Ld'H - after gaining his pilot wings his crew were selected to join 617 Sqn where he flew Lancasters until the end of the war. He completed a full tour of 30 Ops' including missions over Germany, Holland and France as well as taking part in all of the raids against the German Battleship Tirpitz, the Arnsberg viaduct and Hitler's Eagle's Nest.
Wing Commander JOHN BELL MBE DFC Ld'H - after training as an Observer he flew his first tour as a Bomb-Aimer with pilot Bob Knight's crew in 619 Sqn until the whole crew transferred to 617 Sqn flying the famous Lancaster named Thumper Mk.III. He completed a total of 50 Ops', 29 of which were flown on special operations with 617 Sqn including Operation Taxable and he finished the war as an instructor.
Flight Lieutenant RUSSELL 'RUSTY' WAUGHMAN DFC AFC Ld'H - volunteering for the RAF in 1941, Rusty qualified as a Pilot and was posted to 101 (Special Duties) Sqn based at RAF Ludford Magna in Lincolnshire. He completed a full tour of 30 Operations on Lancasters including the Nuremberg raid on 30 March 1944 and survived several major incidents including a mid-air collision and, on the night of 3/4 May 1944, having his Lancaster flipped upside down by an explosion whilst over the target at Mailly-le-Camp in France.
Squadron Leader DICK HAVEN - joining the RAF in 1951 he was a Pilot on Canberras, Valiants and Vulcan B.2s serving with a total of eight squadrons including time as Chief Flying Instructor with 9 & 35 Sqns. He received the 207 Sqn Standard from Queen Elizabeth when she reviewed Bomber Command in 1956 and also flew on the Suez operation from Malta.
----------------------------------------------------------------------------------------------------------------
Entry is completely FREE, all we ask is that you RESERVE YOUR TICKET in advance to help us manage numbers and make it relaxed and comfortable for everyone.
Our guests are happy to sign autographs for collectors and items purchased at the event over £60 can be signed free of charge.
Bookings are now being taken so please contact us to secure your place.
----------------------------------------------------------------------------------------------------------------