APPROACH TO THE MÖHNE DAM - New Release commemorating the famous Dambusters
A masterpiece of aviation art capturing the moment the fate of the Möhne dam was sealed!
17 July 2018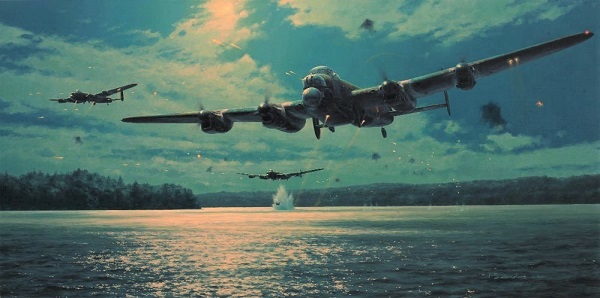 Following three attempts and the tragic loss of one aircraft the dam still held; it is now the turn of Flt Lt David Maltby at the controls of Lancaster AJ-J to press home his attack. With Mick Martin drawing the enemy's fire to port and Guy Gibson to starboard, Maltby holds his aircraft steady and true as bomb aimer John Fort releases their Upkeep mine.
The time was 00.49hrs on the morning of 17 May 1943 and the mine bounced to perfection, hit the target, sank, and detonated against the already damaged stone wall. Immeasurable pressure forced water through the groaning, already cracking blocks of granite until the dam could stand no more. The wall shuddered and then surrendered. 'There was a breach 100yds across,' Gibson wrote later, 'and the water, looking like stirred porridge in the moonlight, was gushing out and rolling into the Ruhr valley....'

The mission many thought impossible had succeeded and the Möhne Dam had been breached. The Eder would follow shortly.
This special release, commemorating the 75th Anniversary, has been personally signed by veterans who helped create the Dambusters legend. This fitting tribute to one of the most famous missions in the history of aerial warfare creates a historic collector's item for aviation art enthusiasts and history buffs alike.
CLICK HERE FOR MORE INFO OR TO SECURE YOUR COPIES