'Halton Boys' Signing Event with author Sean Feast - 28th November
We're pleased to announce this exciting event to help launch the new book 'Halton Boys' by our good friend Sean Feast.
28 November 2021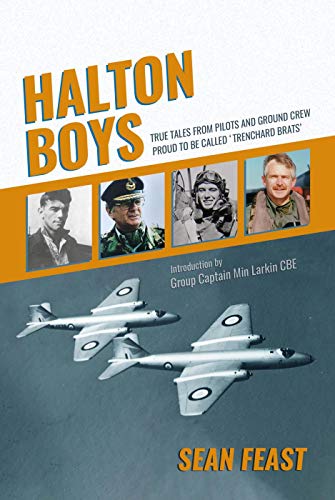 The RAF Halton Apprenticeship Scheme has a deserved reputation for excellence. The brainchild of MRAF Hugh Trenchard, the founder of the Royal Air Force, it took the 'traditional' idea of an apprenticeship and interpreted it in a novel way. It allowed teenage boys from any social background or geography to learn a technical trade that would equip them for their future lives, within and beyond the RAF. It also gave the best an opportunity to become pilots and break into the once public-school-dominated officer class. Of the 50,000 boys trained as apprentices, seventeen won the Sword of Honour at Cranwell, and more than 1,200 were commissioned with 110 achieving Air Rank. Eighteen have been knighted, with well over 1,000 others being honoured at various levels of state. And there were many others, including policemen, government officials and even bishops whose careers started with the Halton family. This is the story of Halton told through and by the boys who were there and who are still proud to be called 'Trenchard Brats'.
Our event is an ideal opportunity to pick up a copy of this superb book and have it personally signed on the day by our guests who include the author and several contributors who were all Halton 'Brats':

Author SEAN FEAST – having worked as a journalist and PR professional for more than thirty-five years, he is now a Director of Gravity Global, an award-winning international communications agency. Sean is a well-respected aviation historian whose past titles for Grub Street include Churchill's Navigator (with John Mitchell), Heroic Endeavour, Master Bombers, A Pathfinder's War, The Pathfinder Companion, The Last of the 39-ers and An Alien Sky (with Andy Wiseman).
Group Captain MIN LARKIN CBE - completed a tour as Signaller/Air Gunner on Shackeltons before becoming an Air Electronics Officer on two more Shackelton tours, followed by a tour as an examiner with the Coastal Command Categorisation Board. He was then Air Electronics Leader and Aircraft Captain on the first Nimrod Mk.I squadron before becoming Research and Development on Nimrod Mk.II avionics. He then served as Commander Operations in Plymouth, Deputy Officer Commanding at RAF Brawdy and Air Adviser to Flag Officer in Plymouth.
Air Marshal Sir 'DUSTY' MILLER - trained on Provosts and Gnats prior to becoming a Qualified Flying Instructor at CFS. He later converted to Hunters and Jaguars, the latter with 14 Squadron in Germany before being promoted to command 17 (F) Squadron on the Tornado. While AOC Training Group, he flew all eight training aircraft - the Squirrel, Tutor, Dominie, Hawk, Vigilant, Tucano, Jetstream and Griffin. As Deputy Commander Joint Forces Command he also flew in the back seat of a F18 Super Hornet.
PETER GOODWIN - Flew Vampire Vs at OCU before being posted to 32 and then 8 squadrons, latterly on the Venom FB4 flying low-level strikes during the Aden crisis where he narrowly avoided being shot down by ground fire. He later flew the Gloster Javelin before becoming a commercial airline pilot as a captain on BAC111s, Boeing 727s, and the Airbus A300-B4. While working with Kuwait Airlines he was captured by Saddam Hussein and held as a human shield during the first Gulf War.
Squadron Leader WALLY EPTON - Trained on Provosts and Gnats before being posted to 6 Squadron to fly the Canberra B15 from Akrotiri. He later flew the C130 Hercules from Singapore before joining the RAF Historic Aircraft Flight (now the BBMF) to fly the 'Baby Spit'. He subsequently flew the Dominie and HS125 and still flies executive jets today.
LAWRIE HAYNES - Chairman of the Board of Trustees of the RAF Benevolent Fund, Lawrie passed out of Halton as a Craft Apprentice, working as groundcrew with 41 Squadron before being posted to RAF Waddington to work on Vulcans. On leaving the RAF he pursued a highly effective career in business including stints as CEO of the Highways Agency, a Board Director of BNFL, and President Land & Sea at Rolls Royce.
--------------------
Books will be available at the event but in a limited supply so please don't leave it to chance – we highly recommend that you reserve your copy in advance so as not to be disappointed.

--------------------
Entry to the event is FREE but we urge you to RESERVE YOUR TICKET IN ADVANCE to ensure a comfortable environment for everyone.

Contact us for more info.