THE IMPOSSIBLE MISSION & THREE GOOD BOUNCES
A stunning pair of studio proofs on canvas commemorating the 75th anniversary of Operation Chastise!
29 June 2018
DAMBUSTERS - THE IMPOSSIBLE MISSION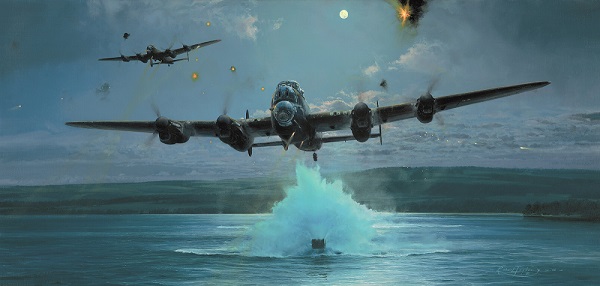 Robert Taylor's aviation masterpiece depicts the moment that "Dingy" Young in Lancaster AJ-A releases his cylindrical, hydrostatically-triggered mine – clearly visible against the huge splash as it hits the water. The mighty Möhne Dam has but moments to live.
THE DAMBUSTERS - THREE GOOD BOUNCES

This classic Robert Taylor piece depicts 'Dinghy' Young and the crew of AJ-A hurtling over the damaged fortress-like wall of the Möhne dam just seconds after successfully releasing their Upkeep bouncing bomb. Commanding Officer Guy Gibson flying alongside noted that Young's bomb made 'three good bounces' before striking the dam wall.