LOOKING FOR TROUBLE – New Release by Robert Taylor
A tribute to the men who flew the legendary P-51 Mustang! To honor the heroic pilots who flew and fought in this iconic machine, Robert Taylor has chosen this classic portrait, completed with all of his usual mastery of his craft, in tribute to all USAAF units that flew the Mustang.
6 June 2017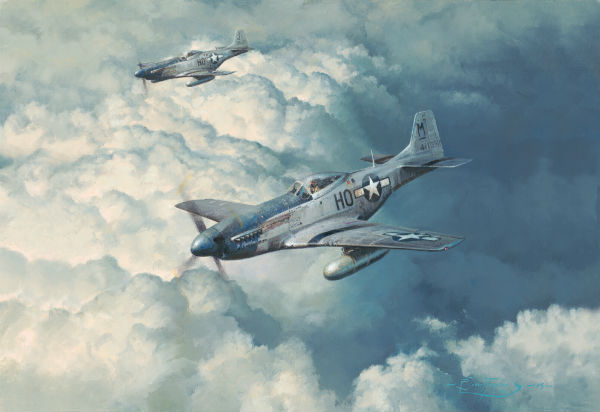 Set against a dramatic bank of clouds, Looking for Trouble bears all the hallmarks of a timeless Taylor masterpiece. P-51Ds of the 352nd Fighter Group with full long-range tanks slung under their wings, head out from their forward base in Belgium on an extended sweep east of the Rhine crossing on the lookout for enemy aircraft, in the spring of 1945.
This historic edition carries the original signatures of iconic USAAF pilots who flew this magnificent aircraft in Europe during WWII. The pilots included represent nine different groups, covering almost all of the European Theatre of operations, giving great meaning to this release and providing enthusiast with historic collector's item.
CLICK HERE FOR MORE DETAILS OR TO ORDER FROM OUR ONLINE STORE