ANNOUNCING A HISTORIC NEW BOOK - THE DAMBUSTERS
Including a special edition Book and Print Portfolio!
8 October 2017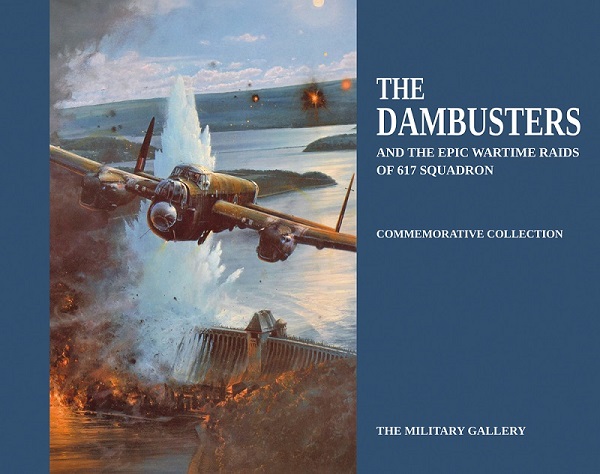 More than a year in production, this historically accurate book has been painstakingly researched with the direct assistance of world renowned expert Dr Robert Owen, official historian of the 617 Sqn Association. Lavishly illustrated with work by the world's leading aviation artists, inspired by first-hand accounts from the veterans involved, the 128 pages provide a unique insight into the incredible story of the Dambusters and the subsequent wartime exploits of the legendary 617 Sqn.
THE COMMEMORATIVE LIMITED EDITION BOOK & PRINT PORTFOLIO

COUP DE GRÂCE – THE MÖHNE DAM
by Anthony Saunders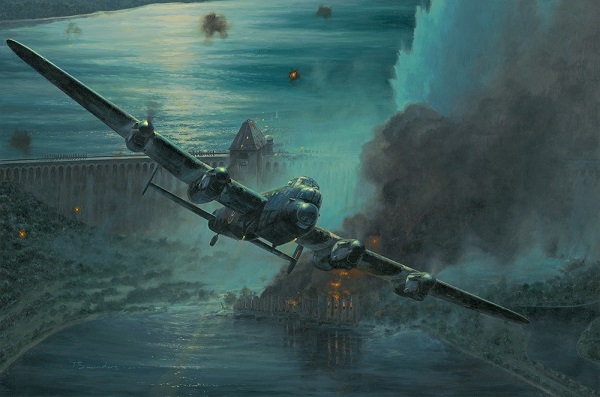 The fifth aircraft to attack the Möhne, Lancaster AJ-J powers away from the target as his Upkeep mine successfully detonates against the already damaged dam wall. Within seconds the dam will rupture releasing a terrifying wall of water flooding into the valley below.
This unique portfolio includes an individually numbered copy of the book THE DAMBUSTERS, complete with its own luxury embossed slipcase, together with a matching-numbered copy of thIS dramatic print.
CLICK HERE TO FIND OUT MORE OR TO ADD TO YOUR BASKET
With such restricted quantities available we urge you to CONTACT US to reserve your copies.